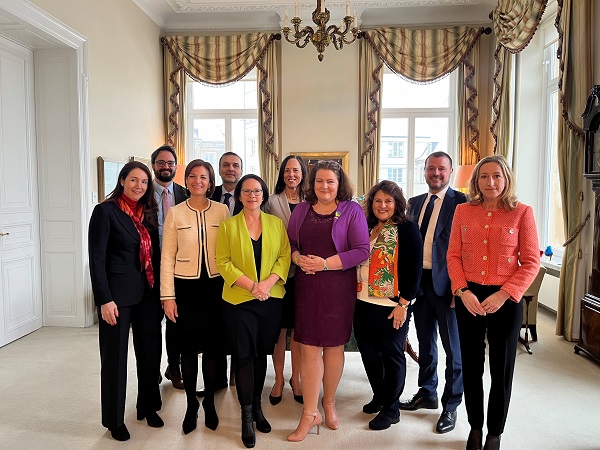 Credit: British Embassy in Luxembourg
On Wednesday morning, the British Ambassador to Luxembourg, Fleur Thomas, hosted a breakfast at the Ambassador's Residence in honour of International Women's Day.
According to the British Embassy in Luxembourg, several government representatives, business leaders and advocates for gender equality came together to celebrate the achievements of women and girls and discuss ways to further empower them.
In the presence of Luxembourg's Minister of Finance, Yuriko Backes, high-profile figures from various sectors, including Janet Henry, HSBC Global Chief Economist, Julie Becker, CEO of the Luxembourg Stock Exchange (LuxSE), and Corinne Lamesch, Chairwoman of the Association of the Luxembourg Fund Industry (ALFI), had an informative and in-depth discussion on this topic.
During the event, Ambassador Thomas also highlighted the United Kingdom's newly launched "Women and Girls' Strategy", which sets out how the UK will work to tackle global gender inequality at every opportunity, including combatting attempts to roll back women's rights, and work with partners around the world to do the same. For the first time, according to the British Embassy, this strategy commits the UK to ensure that more than 80% of its bilateral aid programmes will include a focus on gender equality by 2030. The strategy puts a continued focus on educating girls, empowering women and girls, championing their health and rights and ending gender-based violence.
The attendees emphasised the importance of continued collaboration and action to address the root causes of gender inequality and empower women and girls around the world.
In her remarks, Ambassador Thomas said: "International Women's Day is a time to celebrate the progress that has been made in advancing gender equality, but it's also an opportunity to reflect on the work that remains. We must continue to work together to ensure that every woman and girl has the chance to reach her full potential and live a life free from discrimination and violence."