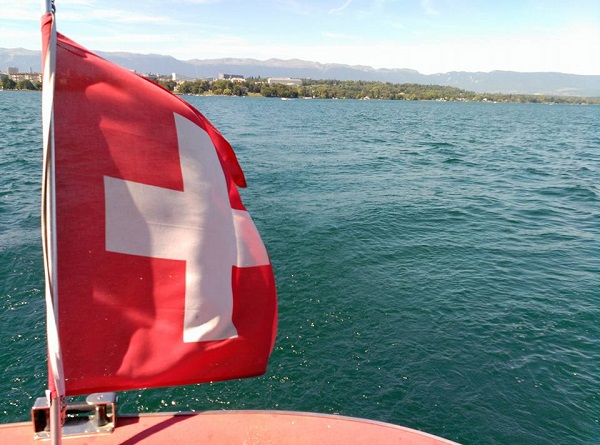 Swiss flag on a boat in Geneva, September 2015; Credit: Jazmin Campbell
Switzerland is celebrating its National Day today, Monday 1 August 2022, commemorating the anniversary of when three Alpine municipalities, Schwyz, Uri and Unterwald, swore the oath of confederation in 1291, an act which was later regarded as the foundation for the creation of the Swiss Confederation.
Whilst the actual date of this act is not known, according to the Federal Charter of 1291 (Pacte du Rütli), it was placed in early August. Although 1 August has been celebrated as the foundation day of Swiss Confederacy since the beginning of 1891 and annually since 1899, it has been an official holiday only since 1994.
Traditionally, Swiss National Day is celebrated with paper lantern parades, bonfires and fireworks displays at the municipal level. A fireworks display over the River Rhine in Basel on the evening of 31 July is also one of the main attractions.
Exceptionally this year, the Swiss Embassy in Luxembourg is without an Ambassador on this day and consequently, no official events are planned in the Grand Duchy, a representative of the Swiss Embassy confirmed to Chronicle.lu. The mandate of the former Swiss Ambassador to Luxembourg, Markus Niklaus Paul Dutly, ended on 30 June 2022 (he will next serve as Ambassador to Chile), while Markus Börlin, the current Swiss consul general (with the title of Ambassador) in New York, United States, will take over as the new Swiss Ambassador to Luxembourg on 12 September 2022.
According to the National Registry of Natural Persons, there were 977 Swiss nationals (including multiple nationality holders) residing in Luxembourg as of 30 June 2022. Of these 977 Swiss nationals in Luxembourg, 401 (41%) were living in Luxembourg City.