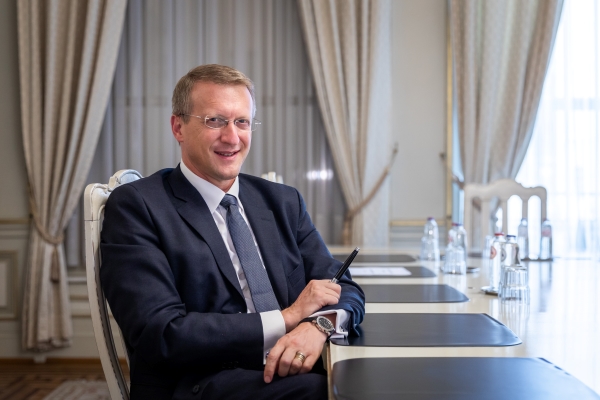 Thomas Lambert, Ambassador of Belgium to Luxembourg; Credit: Belgium Embassy in Luxembourg
Belgium is celebrating its National Day today, Thursday 21 July 2022, a holiday commemorating the anniversary of the oath-taking of King Leopold I on 21 July 1831 as the country's first monarch.
King Leopold was offered the throne of Greece following the Greek Revolution of 1821 to 1830, which created an independent Greek state, but instead, he accepted the throne of Belgium following the Belgian Revolution, which ended on 21 July 1831 and an independent Kingdom of Belgium was established.
Traditionally, in the capital, Brussels, the Belgian National Day festivities begin with a Te Deum Christian hymn at the Saint Michael and Saint Gudula Cathedral. The event is attended by the King of the Belgians and other dignitaries, followed by a military parade in front of the Royal Palace. A flypast by the Belgian Air Force and fireworks display are also among the main attractions.
Philippe, the current King of the Belgians, formally ascended to the throne of Belgium following the abdication of his father Albert II on Belgian National Day in 2013.
On the occasion of this year's Belgian National Day, Chronicle.lu reached out to Thomas Lambert, Ambassador of Belgium to Luxembourg, who said that he was glad that this year's celebrations would take place in their "normal" format. He commented: "For the first time in three years, my wife and I will be able to host a reception for the embassy network, with representatives of the Luxembourg government, parliament, judiciary, military, the Luxembourg-based diplomatic corps and a broad audience from Belgium, Luxembourg, international contacts of the embassy and European Union (EU) institutions in Luxembourg, that will take place at the Belgian Residence".
Ambassador Lambert, who took office in Luxembourg in September 2020, noted that on Wednesday 20 July 2022, the evening before Belgian National Day, the Belgian Royal Society organised a party at the Bofferding Brewery (Brasserie Nationale), which included Belgian fries, waffles, beers and a concert.
Ambassador Lambert added: "For me, it will be my first proper National Day celebration in Luxembourg. At the same time, it also marks the 'half time' of my mandate as Ambassador and we will also renew the diplomatic team at the embassy. In other words, a good opportunity to both look back and forward."
Reflecting on Luxembourg-Belgium bilateral relations, Ambassador Lambert, underscored: "My main takeaway would be that the bilateral relations are absolutely excellent. Of course, we have topics to work on but we also have a synchronised machinery to process a positive agenda in our bilateral relations. And more often than not, the topics at hand seek to find answers for our citizens, [for example], mobility, logistics, ease of doing business, cross-border workers, healthcare and medical services".
"It is also noteworthy that the very frequent political contacts - with almost no exception - also and quite naturally, talk about broader EU and Benelux cooperation", continued Ambassador Lambert. "And the geopolitical challenges in Ukraine are also discussed. It shows that [both] our countries have a political DNA that helps us to cast our views and concerns way beyond our common border areas."
Looking back at the pandemic, Ambassador Lambert, said: "The COVID-19 crisis has helped Belgium to rediscover the importance of existing cross-border realities. And how this should deserve a better focus in EU policy-making. About one third of EU citizens crosses borders on a daily basis for work, family and leisure. That is especially true in the Benelux countries. And a perfect reason for our countries to keep raising awareness on that. That is why the Benelux countries wrote a joint paper as a guidance for our EU policy. Belgium will hold the EU presidency in seventeen months, and we will keep that topic on the radar".
Commenting on the future, he said: "A topic that will receive extra focus in the coming years is a strategic reflection on how we can find a model for joint economic development between Luxembourg and neighbouring Belgium (in essence the province of Luxembourg, OstBelgien)".
Ambassador Lambert concluded: "Last but not least, we have a very important project of military integration between Belgium and Luxembourg that will become tangible in the coming years. Belgium already has a decade-long and successful deep integration between the Belgian and Dutch navies. I am therefore very happy to see that we will achieve a similar level of integration with Luxembourg. It also means that the Benelux countries set the example for many other EU countries". He added: "We can all be proud of that".
According to the National Registry of Natural Persons, there were 24,813 Belgian nationals (including multiple nationality holders) residing in Luxembourg as of 30 June 2022, representing the fourth largest foreign community after Portuguese, French and Italian nationals.
Of the 24,813 Belgian nationals in Luxembourg, 5,386 (22%) were living in Luxembourg City, followed by Rambrouch (783), Mamer (735), Habscht (717) and Hesperange (711). Belgian nationals are resident in all the 102 municipalities of Luxembourg.