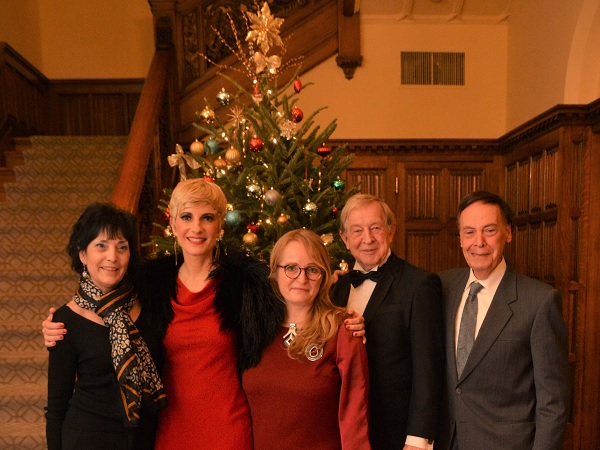 Adrienne Haan at Luxembourg Embassy, Washington DC, for Embassy Series 2021; Credit: Morris Simon
On Thursday 9 and Friday 10 December 2021, Adrienne Haan, an international performer from Luxembourg / Germany, along with accomplished pianist Richard Danley, delivered a historic musical performance at the Luxembourg Embassy in Washington D.C.; the dynamic duo kept the audiences enthralled for two consecutive evenings.
"The Embassy Series featured a unique performer from Luxembourg in two performances this week: Adrienne Haan, one of finest performers we have ever invited. Her amazing musical and dramatic qualities in a programme of the music of Irving Berlin captivated the audience. The hallmark of the Embassy Series is "Uniting people through musical diplomacy" and this was brilliantly executed by the artists, including master pianist Richard Danley. Together with the outstanding cooperation and hospitality of the new Ambassador Nicole Bintner-Bakshian and her staff and assisted by Ms. Elisabeth Herndler, the attendees were given superb treatment, for the music, for the buffet dinner and kindness and friendship throughout the evening," commented Embassy Series Founder Jerome Barry.
The programme which earned accolades from the New York Concert Review in its debut in New York a few days earlier, was designed by Laurence Pierron of the Luxembourg Consulate in New York City. The New York Concert Review found that Haan, "known as a performer with a flair for decadent Weimar-era cabaret and the like (Brecht/Weill), as well as many other eclectic international programmes," captivated the audiences just like she did in Washington on the memorable evening of 9 and 10 December 2021. Danley is a pianist; however, on these two evenings, he entertained the audiences with his masterful voice and theatrical skills.
Until the pandemic brought social life to an abrupt halt, the Embassy Series with the cooperation of the Luxembourg Embassy and a succession of ambassadors, held Christmas-themed musical events for two or three evenings around the holiday period in Washington. It has always been a packed house. This year, under Ambassador Bintner-Bakshian, the year-end tradition continued with skill and dexterity; strict health and safety protocols were followed to keep the pandemic away.
With the theme of "White Christmas," the concert was a celebration of the life and music of the legendary songwriter Irving Berlin. Haan performed not just as a singer but also as a historian who told the story behind each song, as she and Danley took the audiences through decades along the memory lane. Barry shared with the audience that he performed with Irving Berlin's daughter in the very building where the concert was held. "It was Irving Berlin's daughter, Mary Ellen Barrett, and his granddaughter that attended, as well as Ted Chapin, CEO of the Rogers & Hammerstein Corporation. I have photos of her with us," Barry wrote later.
As in years past, the Luxembourg Embassy invited a number of distinguished guests to the performances.