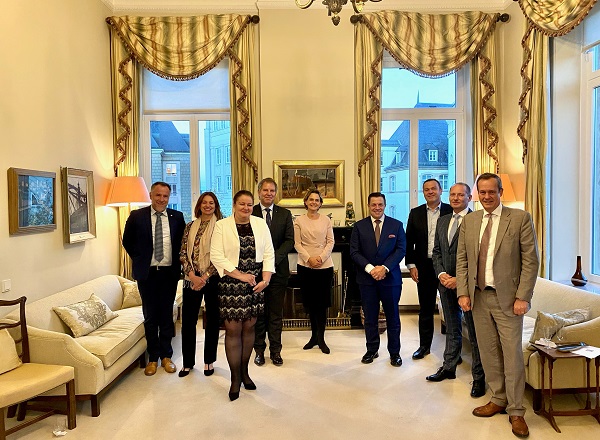 Credit: British Embassy in Luxembourg
On Wednesday evening, the British Ambassador to Luxembourg, Fleur Thomas, hosted leading Luxembourg business stakeholders at the British Residence for the European Green Investment Summit.
The European Green Investment Summit comprised a simultaneous, collaborative series of events that took place at 20 British embassies across Europe and Israel. Its aim was to offer like-minded companies the opportunity to discuss their plans to tackle climate change. The British Embassy in Luxembourg described the event as a major milestone moment in the build-up to the United Kingdom's Global Investment Summit and ultimately the 26th UN Climate Change Conference of the Parties (COP26), which the UK will host in Glasgow from 1 to 12 November 2021.
Two keynote speeches by COP26 President Alok Sharma and the UK's Minister for Investment Lord Grimstone were broadcasted live from Milan, Italy, followed by a roundtable discussion with Ambassador Fleur Thomas and advisors from the British Embassy in Luxembourg.
During the exchange, participants had the opportunity to discuss various pressing issues their companies are facing, such as the greening of supply chains and other commitments contributing to the reduction of greenhouse gas emissions. They also found out more about the UK's emerging net zero investment opportunities, the UK Government's Ten Point Plan and the UN's global Race to Zero campaign.