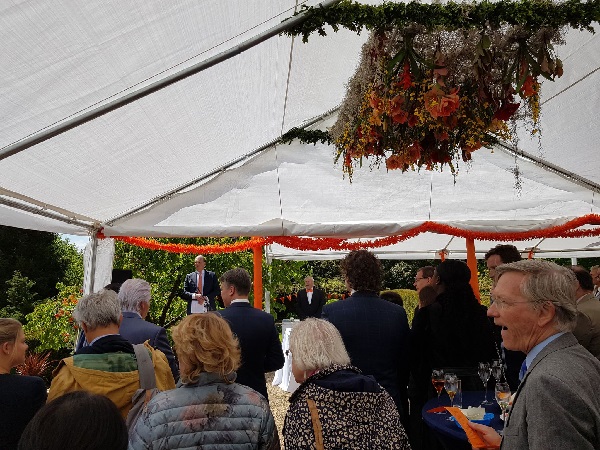 Credit: Jazmin Campbell
On Friday 10 May 2019, the Ambassador of the Kingdom of the Netherlands in Luxembourg, Han-Maurits Schaapveld, hosted a reception at his residence in Luxembourg-Kirchberg.
Previously postponed due to the national mourning of His Royal Highness Grand Duke Jean, the reception belatedly celebrated King's Day, the national holiday of the Netherlands (27 April).
Guests were treated to traditional Dutch cuisine, including cheese, "Bitterballen" meatballs with mustard and "Poffertjes" pancakes, accompanied by orange-coloured crémant for the occasion. There was also a band playing traditional music.
Following His Excellency Ambassador Han-Maurits Schaapveld's speech on the important ties that link the Netherlands to Luxembourg, both historically and in the modern world in terms of sustainable energy, he joined guests in singing the Dutch and Luxembourgish national anthems.