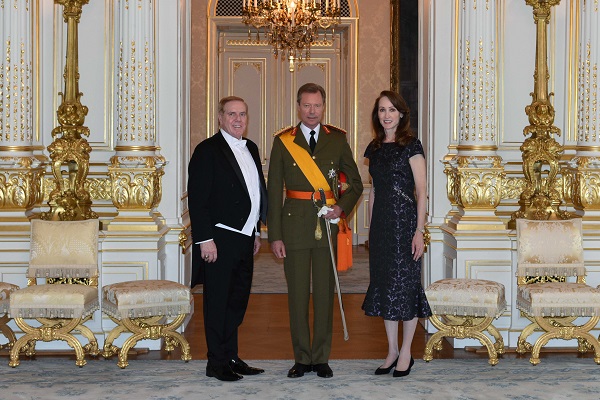 U.S. Ambassador to Luxembourg, J. Randolph Evans; HRH Grand Duke Henri; Ms Linda Evans; Credit: © Cour grand-ducale / tous droits réservés
On Tuesday 19 June 2018, the U.S. Ambassador to Luxembourg, J. Randolph Evans, presented his diplomatic credentials to His Royal Highness Grand Duke Henri at the Grand Ducal Palace in Luxembourg city, becoming the 23rd Ambassador Extraordinary and Plenipotentiary of the United States of America to the Grand Duchy of Luxembourg.
"Serving as Ambassador to the Grand Duchy of Luxembourg is a great honour. Luxembourg is a beautiful country. My wife, Linda, and I are looking forward to our time here and getting to know the Luxembourgish people. I am ready to get to work to continue to support the wonderful relationship that exists between our two countries and to work together to strengthen and develop even better relationships than ever before," said Ambassador J. Randolph Evans.
Mr. Evans is a distinguished attorney, author and public servant. He previously was a partner in the global law firm, Dentons US LLP, which has offices in over 90 countries, and was co-chair of the Georgia Judicial Nominating Commission. Mr. Evans was Counsel to the Office of the Speaker of the U.S. House of Representatives from 1995 – 2007. Mr. Evans has been a leader in both the American Bar Association and the Georgia Bar Association serving in senior positions in both. He has co-authored eight books and is a syndicated columnist writing on ethics, climate change and current events. Mr. Evans attended West Georgia College (B.A. 1980) in Carrollton, Georgia, and the University of Georgia Law School (Juris Doctor 1983) in Athens, Georgia.