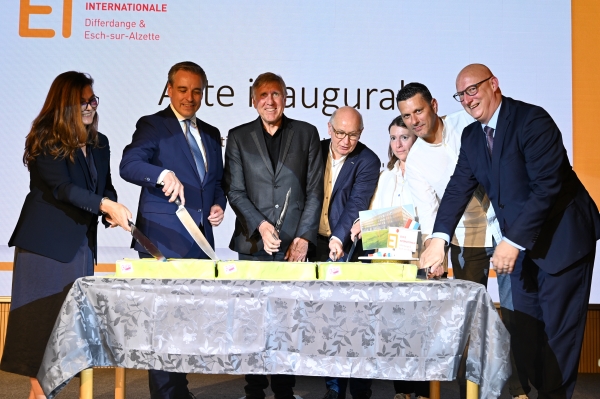 Credit: MMTP
On Monday 27 June 2022, Luxembourg's Deputy Prime Minister, Minister of Mobility and Public Works, François Bausch, and the Minister of National Education, Children and Youth, Claude Meisch, inaugurated the building for secondary education in the International School of Differdange and Esch-sur-Alzette (l'École internationale de Differdange et Esch-sur-Alzette - EIDE) at the EIDE campus in Differdange.
The building for secondary education of the EIDE is characterised by its clear geometry and its compact volume. The chosen concept makes it possible to free up a maximum of surface area for the development of green spaces and parks. The secondary school has total capacity for 800 pupils.
A cycle path on the route of the old funicular directly connects the campus with the centre of Differdange, the station as well as with the public car parks of the city of Differdange.
The building implements a concept relating to comfort and sustainability which takes into account the choice of ecological materials and low maintenance requirements. The roof of the building is covered with 1,244 photovoltaic panels.
The overall cost of the project is €65,000,000 including tax. The commissioning of the building took place in April 2021.
EIDE was first of the European International schools in Luxembourg and has rented buildings for classrooms and administration until they moved into the new building in April 2022. The school has three campuses, one in Esch-sur-Alzette for both primary and secondary education, and two campuses in Differdange, one for primary education and another for secondary education.
EIDE is a fully accredited European School covering the entire primary and secondary education, including the European Baccalaureate, and will complete its first Baccalaureate Cycle in July 2023.
The new building has:
Nineteen standard size classrooms (30 students)
Eleven small-sized classrooms (24 students)
Two "open space" classrooms
Eight special rooms
Two workshops (theater, music)
Administration
Reception structure (school canteen, multipurpose room, library)
Sports hall with three standard units
Multifunctional room as fourth unit
Exterior surfaces:
One multi-sports ground
Platform for four buses
Spaces for approximately 80 bicycles