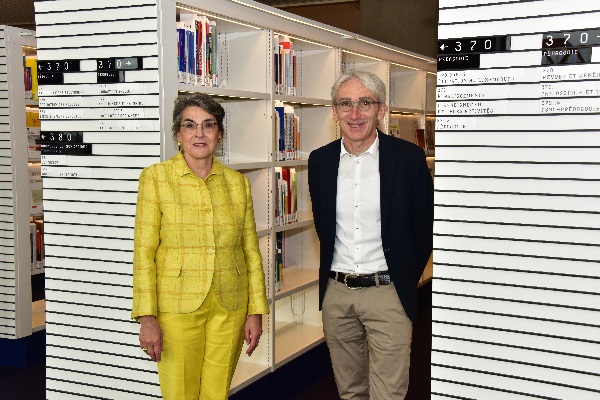 L-R: Monique Kieffer, Director of the BnL; Camille Peping, Director of the IFEN; Credit: BnL
The National Library of Luxembourg ("Bibliothèque nationale du Luxembourg" or BnL) and the National Education Training Institute ("Institut de formation de l'Education nationale" or IFEN) have announced the launch of the "IFEN eLibrary" digital library.
The IFEN Digital Library is a cooperation between the IFEN and the BnL to support the professional development of teachers and educational and psychosocial staff working within the framework of national education.
The objective of both institutions is to meet the need for professional documentation and continuing training among educational staff through specialised digital resources. The IFEN educational resource Centre, which already offers a wide range of printed books and journals, CDs, DVDs and educational games, will now offer access to a selection of eBooks and digital journals from paedagogy and education, in French and German.
For its part, the BnL will take care of the centralised management of the required documentary resources. Its mission is to provide Luxembourgish society with quality documentary resources and ensure access for the greatest number of people.
As a Luxembourg library service provider and research facilitator, the National Library carried out a similar project in 2017 in cooperation with the Ministry of the Civil Service and the State Information Technology Centre, which created the digital government library bibgouv.findit.lu. This library equips the ministerial departments and state administrations with digital resources specialised in the field of law.
This new digital library is accessible to teachers and educational and psychosocial staff, thanks to their IAM identifiers, on the IFEN website: https://ssl.education.lu/ifen/elibrary.