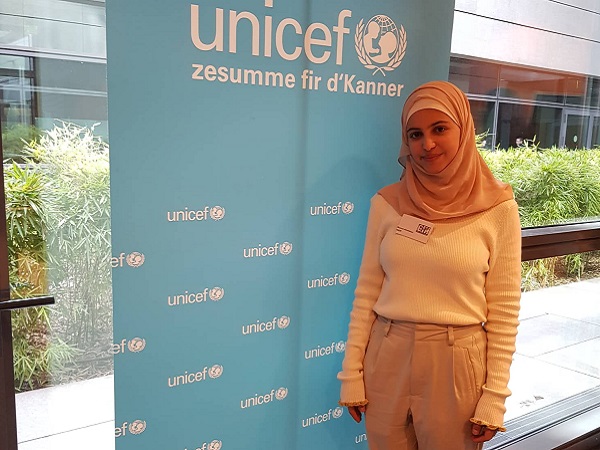 UNICEF Goodwill Ambassador Muzoon Almellehan; Credit: Jazmin Campbell
On Thursday morning, UNICEF Goodwill Ambassador Muzoon Almellehan took the stage at the Global Issues Network (GIN) Conference at the Chamber of Commerce Luxembourg.
During the conference, organised and led by sixteen students from the International School of Luxembourg (ISL), Muzoon Almellehan spoke of her own experience as a Syrian refugee and activist. From a young age, she has made it her mission to campaign for education for all children and young people.
Prior to the outbreak of conflict in Syria in 2011, Muzoon Almellehan, now aged 20, was a normal teenager who went to school, had a house and electricity and could move freely around her country. As Ms Almellehan stated, however, "there is no future when there is war". The Goodwill Ambassador emphasised that neither she nor her family (nor many other refugees) wanted to leave their homeland, but, faced with no other option, she and her family moved to Jordan in 2013 where they lived for three years in refugee camps. It was there that she received support from UNICEF.
Among all the challenges that Muzoon Almellehan faced during her time as a refugee, the most important thing for her was to be able to continue her education. Indeed, war had made some Syrian parents begin to prioritise marriage over education for their young daughters, as some way of securing a future for them. However, Ms Almellehan was committed to showing them (and the world) that education was the only way to prepare the youth for the future. In the case of Syria, she emphasised that only through education could young people one day rebuild their society. UNICEF noticed her activism and, in 2017, she became one of the organisation's youngest Goodwill ambassadors. She currently lives in Newcastle, England with her family, where she studies International Politics, in addition to her activist work.
The main message running through Muzoon Almellehan's speech was one of hope and gratitude, emphasising that as long as there is hope, the fight is not over. She added that we should be thankful for what we have and use our luck, our privilege to help these children receive the education they both deserve and to which they have the right. Indeed, Ms Almellehan stated that no action is too small and that we must all work together to make change-makers take action.
Following her speech, the floor opened to the audience of students for a Q&A session. In response to one question on helping young people in poverty, Muzoon Almellehan highlighted the importance of supporting organisations, such as UNICEF, which work globally and really know the situation in specific countries that are affected. With regards to prejudices against refugees, the young activist emphasised that the only way to know the truth and be able to judge someone is to get to know them. In this sense, she recommended speaking with refugees in person and listening to their stories, rather than simply accepting the media's often negative portrayal of the situation or just accepting the statistics.
In addition, Muzoon Almellehan spoke of always believing in herself and finding her voice so that she could spread the message of millions of voiceless children. She added that a lot of her inspiration, and indeed her love for education, came from her supportive father, who is a teacher. Her experiences in the refugee camps only served to reinforce her determination to never give up, never underestimate herself and be grateful. She concluded that she also learned that "nothing comes easy. If you want something, you have to fight for it."
The GIN Conference, taking place from 28-30 March 2019 in Luxembourg, aims to encourage young people to work together towards creating sustainable solutions for global issues. The event brings together 250 students from 30 schools and fifteen countries and this year centres around the theme of the "World's most vulnerable People, Places and Resources". Indeed, prior to Muzoon Almellehan's speech, Luxembourg Minister of Finance Pierre Gramegna exchanged views with the young people in the audience on important topics like education, climate change, renewable energy and public transport.