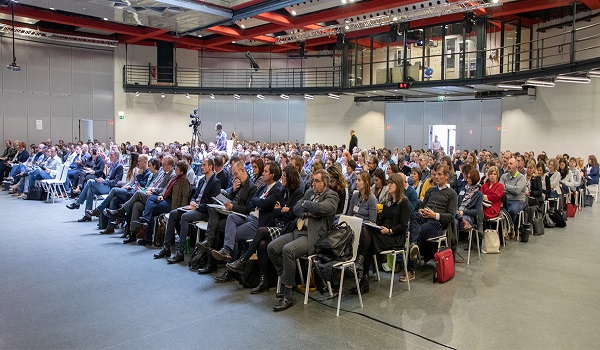 Credit: MENEJ/SCRIPT
Some 400 teachers, school committee chairs, directors of primary and secondary schools, ministry and university staff from Luxembourg attended the conference "Collaborative work in the field of school development process", on Monday 12 March 2019 at the Geesseknäppchen Forum.
The conference, organised by the Coordinating Department for Educational and Technological Research and Innovation (SCRIPT) of the Ministry of National Education, Childhood and Youth, brought together several hundred teaching professionals in Luxembourg to discuss the new school development plan (PDS) on collaboration within the school community.
The 400 participants attended the presentation by Laëtitia Progin, Doctor of Education and Associate Professor in Leadership and Institutional Management at the University of Applied Sciences of the Canton of Vaud, Switzerland, who spoke on work and team cooperation for teachers.
Since the beginning of the 2017/2018 school year, each school has implemented a school development plan (PDS) in which they define their own approaches in the areas essential to the success of their students, adapted to local specificities. The PDS approach provides for close collaboration of the school community with schools having drawn on help from teachers and school partners, including parents, to establish their plans. This approach aims in particular to strengthen the collaborative work between teachers, who are key to the quality of education.
To support PDS initiatives, the ministry has implemented various resources: in secondary schools, school development units coordinate the development of the PDS, whilst specialised teachers in school development accompany the primary schools in these efforts. Moreover, support will be provided in this area on a daily basis and through seminars of work and exchange, large conferences and computer tools.
The SCRIPT, the National Education Training Institute (IFEN), the directorates of primary education and the departments of the Ministry are heavily involved in this participative and collaborative work.