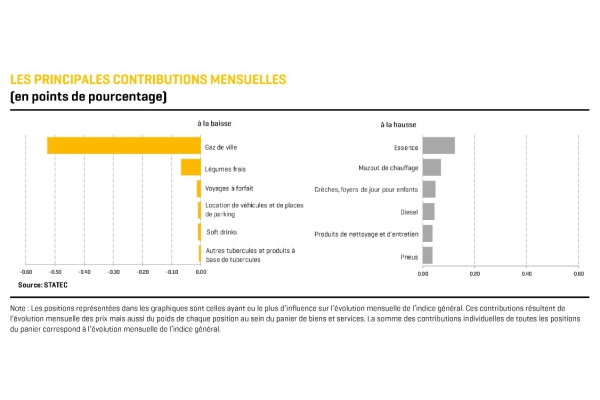 Credit: STATEC
According to Luxembourg's statistical institute, STATEC, the annual rate of inflation in the Grand Duchy has fallen from 7.0% to 6.8% over one month.
In May 2022, the national consumer price index (IPCN), calculated by STATEC, climbed 0.1% compared to the previous month. Prices excluding petroleum products increased by 0.5% while the aggregate of petroleum products fell by 3.9%.
Following four months of consecutive increases for petroleum products, STATEC noted a price drop in May 2022. Indeed, between April and May the prices of petroleum products fell by 3.9%. This decline is explained by a 20.0% fall in the gas price following the temporary suspension of natural gas network costs for residential customers from May 2022. This measure should extend until the end of this year. The price of heating oil (mazout) rose by 6.1% in one month. Campared to the previous month, prices at the pump increased by 3.0% for diesel and 6.5% for petrol. Campared to May 2021, the prices of products derived from petroleum oil in the basket of the index were 49.7% higher.
Food prices continued their upward trend and increased by 0.5% over one month. Among the products which, between April and May, weighed the most on the trend, were fish and seafood (up 3.0%), fats and oils (up 4.8%] and coffee (up 5.9%). However, other items witnessed price drop, in particular, fresh vegetables (down 10.5%) and soft drinks (down 1.5%). In annual comparison, overall food products increased by 5.7% for consumers.
In addition, inflation is boosted by a rise in prices for crèches and day centers for children, which rose by 2.4% in May. Lowerings were also raised in May for tires (up 3.2%] and the "driving lessons and technical control" aggregate (up 3.9%). On the other hand, package travel prices fell 2.9% from April.
The annual inflation rate stood at 6.8% against 7.0% a month earlier. The underlying annual inflation rate gained 0.3%, and stood at 4.5% in May 2022. The general index for the month of May expressed in base 100 in 2015 amounted to 115.87 points. The half-yearly average of the index linked to the 1.1.1948 base was 936.68 points compared to 930.37 a month ago.