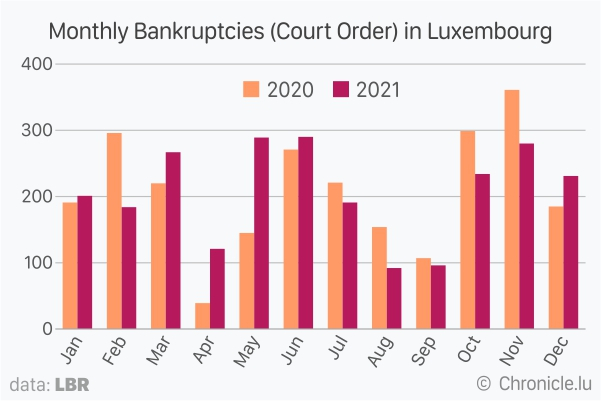 Monthly Bankruptcies (Court order) in Luxembourg in 2020 and 2021;
The number of companies that declared bankruptcy in Luxembourg in 2021 totalled 2,476, marginally fewer than the 2,489 reported in 2020; these figures are based on data taken from the Luxembourg Business Register (LBR).

May 2021 was the month with the most bankruptcies (281), whilst August 2021 saw the fewest bankruptcies (92).

Moreover, the number of companies newly registered with the LBR in 2021 was 14,360. This represents an increase of 27% compared to the 11,248 new registrations in 2020.

In contrast, the total number of companies deregistered from the Luxembourg Trade and Companies Register (Registre de commerce et des sociétés – RCS) was 12,981 in 2021, down from 24,473 in 2020.

Chronicle.lu contacted the LBR to understand the relatively high number of deregistrations. The LBR helpdesk clarified that since 2020, the LBR has launched an annual purge of the RCS on the basis of articles 18 and 19 of the Grand-Ducal Regulation of 23 January 2003 implementing the law of 19 December 2002 concerning the RCS as well as the accounting and annual accounts of companies. This exercise performed by the LBR automatically deregisters entities that have not made a deposit for more than ten years and is an administrative measure, not leading to the dissolution of the entity concerned.

For the year 2020, the LBR performed total 18,067 automatic deregistrations and in 2021, 6,610 automatic deregistrations were performed in June.