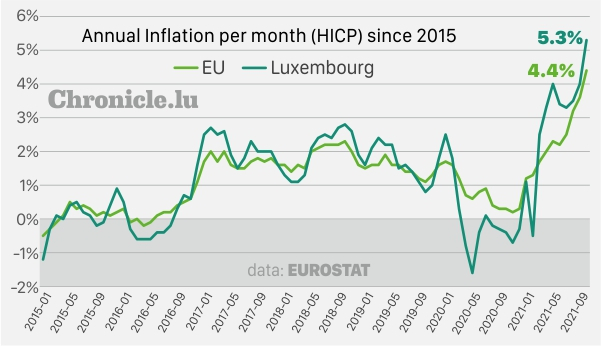 Annual inflation in Luxembourg reached 5.3% last month - the highest recorded since 1984.
Annual inflation stood at 5.3% in October 2021, up from 4.0% the previous month.
In comparison, annual inflation in the European Union (EU) was 4.4% in October 2021, with the highest annual rates recorded in Lithuania (8.2%), Estonia (6.8%) and Hungary (6.6%). Belgium reported 5.4% annual inflation for the month in question.
In its recent inflation forecast, the national statistics agency STATEC assessed different scenarios and expected the headline inflation to be between 2% and 3% in 2021 and 2022.
The sharp increase in Luxembourg is mainly driven by annual price increases in electricity, gas and other fuels (+29.67%; October 2021 / October 2020) and of the operation of personal transport equipment (+27.15%)