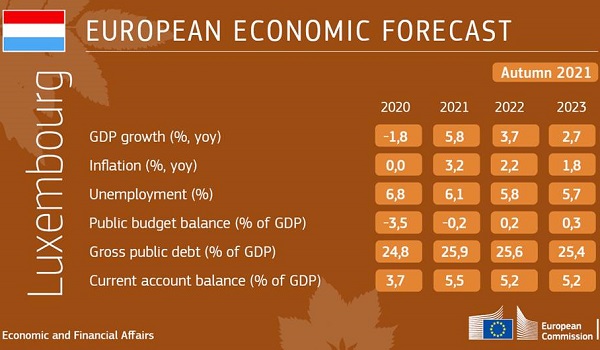 Credit: European Commission
In its "Autumn 2021 Economic Forecast", the European Commission has reported that economic growth in Luxembourg is set to rebound strongly in 2021.
According to the Commission, the economy of the European Union (EU) is rebounding from the pandemic recession faster than expected. As vaccination campaigns progressed and restrictions started to be lifted, growth resumed in spring and continued unabated through summer, underpinned by the re-opening of the economy.
Despite mounting headwinds, the EU economy is projected to keep expanding over the forecast horizon, achieving a growth rate of 5%, 4.3% and 2.5% in 2021, 2022 and 2023 respectively. Growth rates for the euro area are projected to be identical to those for the EU in 2021 and 2022, and 2.4% in 2023. This outlook depends heavily on two factors: the evolution of the COVID-19 pandemic and the pace at which supply adjusts to the rapid turnaround in demand following the re-opening of the economy.
In Luxembourg, the easing of restrictions after a successful vaccination campaign is expected to allow GDP to grow strongly this year, supported by private consumption and investment, as well as by the strong performance of the external sector. The economy is projected to continue a steady growth path in 2022 and 2023, leading to a decrease in unemployment. The general government balance is forecast to improve gradually.
In its summer forecast, the Commission said it expected Luxembourg's GDP to grow by 4.8% in 2021 and by 3.3% in 2022. It has now forecast growth of 5.8% for this year and 3.7% for next year, before slowing down to 2.7% in 2023. Inflation is expected to slow from 3.2% in 2021 to 2.2% in 2022 and 1.8% in 2023.
"The European economy is bouncing back strongly from the recession, with a projected growth rate of 5% this year", explained Valdis Dombrovskis, European Commissioner for Trade. "Our measures to cushion the blow of the pandemic and to ramp up vaccinations across the EU have clearly contributed to this success. But this is no time for complacency: we continue to face uncertainty with this virus and there are some risks to contend with. [...] To stay on track, we must now focus on rolling out investments and reforms planned under the Recovery and Resilience Facility to boost our economic potential".
Paolo Gentiloni, European Commissioner for Economy, added: "The European economy is moving from recovery to expansion but is now facing some headwinds. An unprecedented policy response cushioned the impact of COVID-19 on workers and businesses and a successful vaccination campaign has enabled the reopening of our economies since the spring. This has powered a surge in growth, which is in turn helping to stabilise our public finances. And with the support of NextGenerationEU, public investment is set to reach its highest level in more than a decade". He continued: "There are three key threats to this positive picture: a marked increase in COVID cases, most acute in areas where vaccinations are relatively low; rising inflation, driven largely by a spike in energy prices; and supply-chain disruptions that are weighing on numerous sectors. We must remain vigilant and act as needed to ensure these headwinds do not blow the recovery off course".