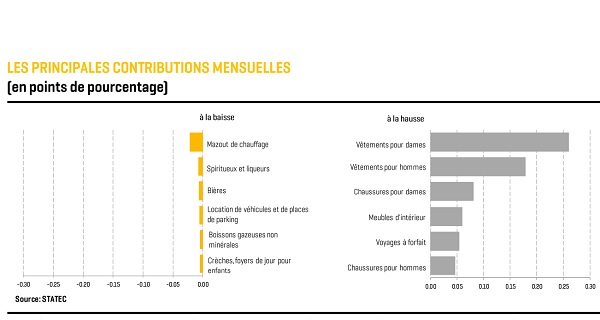 Credit: STATEC
Luxembourg's statistical institute STATEC reported today that the annual rate of inflation in the Grand Duchy has risen from 2.3% to 2.5% over one month.
In August 2021, the national consumer price index, calculated by STATEC, recorded an increase of 1.0% compared to the previous month. This development is mainly explained by the end-of-summer sales.
Like every year, the price decreases observed in sale items in July were neutralised the following month; this explains a monthly price increase of 13.6% for shoes and clothing. Over one year, the price of clothing increased on average by 0.7%, whilst that of shoes increased by 1.0%.
Following a rebound in July, the price of petroleum products began to fall again in August, with a decrease of 0.2% compared to the previous month. This is mainly explained by a drop in heating oil prices (down 1.6%) over one month. At the pump, motorists had to pay 0.6% more for a litre of petrol and 0.1% more for a litre of Diesel compared to the previous month.
With the peak of the summer season, package holiday prices rose 6.4% in August compared to July. Air passenger transport prices also rose by 24.2%.
Food prices went up 0.5% over one month, with the largest price hikes being recorded for fresh seafood (up 4.0%), olive oil (up 3.7%) and fresh fruit (up 2.3%). The price of rice (down 1.5%) and eggs (down 1.2%) fell compared to July. Price drops were also observed for soft drinks (down 1.6%) and alcoholic beverages (down 0.1%). Over one year, food prices were up 1.4%.
The annual inflation rate stood at 2.5% in August, up from 2.3% the month before. The general index for the month of August expressed in base 100 in 2015 was 109.31 points.