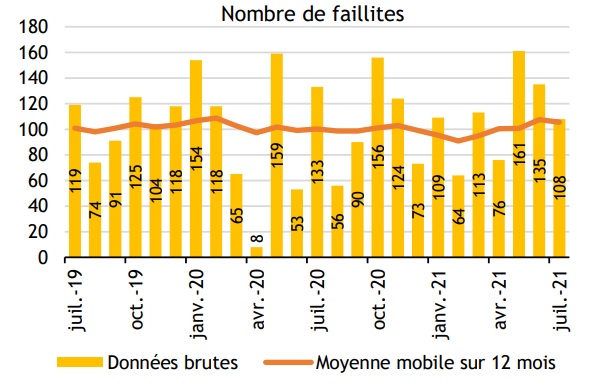 Credit: Fondation IDEA
According to Fondation IDEA, the Luxembourg economy is recovering and it is accompanied by record activity estimates, especially in industry; business confidence is generally at a high level and issues related to recruitment difficulties are resurfacing.
However, it warns that this improvement could be slowed down by the unpredictable development of new variants, which could require new restrictive measures.
A slight increase in bankruptcies (+8%) and even more notably in liquidations (+80%) over the first half of 2021, compared to the average for the first half of 2018 and 2019, is also to be noted. While holding companies and investment funds are particularly affected, trade, both in construction and specialised, scientific, technical, administrative and support activities are also affected sectors.
The labour market remained very dynamic in June. A total of 1,855 additional jobs were created and the unemployment rate stabilised at 5.7%. While ADEM lists 16,402 job seekers, the stock of available vacancies (9,735) has never been higher. In contrast, the proportion of job seekers registered for 12 months or more has increased significantly since the onset of the crisis, from 41.5% to 50.8% of total job seekers.
The Luxembourg consumer confidence indicator fell slightly in July, probably due to new uncertainties on the health front, but it remains at a level close to that before the crisis. Overall, the latter remain optimistic about the development of unemployment over the next 12 months, but their willingness to make major purchases is weakening slightly. In July, trips to shopping and entertainment returned to their pre-crisis level for the first time.
Over the first 6 months of 2021, the central government budget balance returned to positive (+ €101 million). With the advancement of financial markets, revenue from subscription tax reached €611 million in the first half, a record level. Luxembourg's maintenance of triple A was again confirmed.