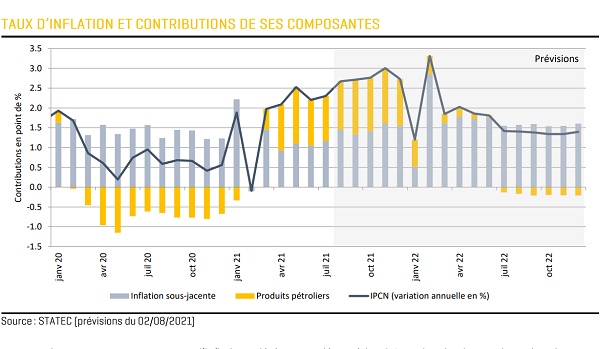 Credit: STATEC
Luxembourg's statistical institute STATEC has projected that inflation will temporarily approach 3% by the end of 2021.
In Luxembourg, as in the eurozone as a whole, inflation has surpassed 2% in the last months and should continue to accelerate during the rest of the year.
According to STATEC, this momentum can be explained by the rise in the price of oil and the strengthening of core inflation.
Projections for the eurozone expect core inflation to gradually rise, whilst remaining under 1.5% until 2023. In Luxembourg, core inflation is set to increase from 1.4% in 2021 to 1.7% in 2022.
Compared to its previous projections (published on 5 May 2021), STATEC has revised its (global) inflation forecast for 2021 upwards, from 2.0% to 2.2%. This change reflects a slightly more vigorous core inflation (1.4% for 2021, compared to 1.2% in May)