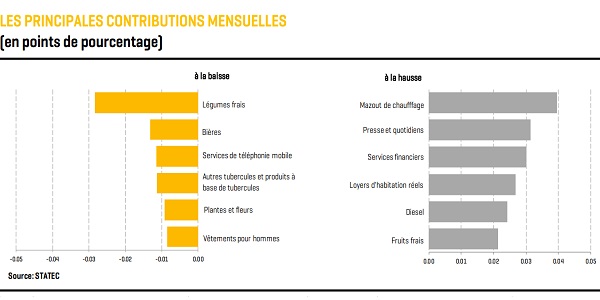 Credit: STATEC
Luxembourg's statistical institute STATEC reported today that the annual rate of inflation in Luxembourg has fallen from 2.5% to 2.2% over one month.
In June 2021, the national consumer price index, calculated by STATEC, recorded an increase of 0.2% compared to the previous month. This result is mainly explained by an increase in the price of petroleum products, which rose by 1.6% compared to May 2021.
For the second consecutive month, petroleum product prices are on the rise. At the pump, motorists had to pay 2.2% more for Diesel and 0.9% more for petrol compared to the previous month. Heating oil prices rose by 3.2%.
The price of goods and services excluding petroleum products recorded a modest increase of 0.1% compared to the previous month.
Regarding food, price drops for fresh vegetables (down 5.4%) and tuber-based products (down 8.3%) were countered by increases for fresh fruits (up 2.2%) and fresh fish (up 3.1%) over one month. Overall, food prices stagnated compared to May.
The result for the month of June was brought up by increased financial service prices (up 1.4%) and the recovery in the prices of press articles (up 5.5%) following the end of certain promotional actions from the previous month. Actual housing rents, up 0.3%, also fuelled inflation. Conversely, communication costs fell in June following a drop in mobile telephone services (down 1.1%). Price drops were also observed for beer sold in supermarkets (down 1.1%), men's clothing (down 0.6%) and plants and flowers (down 2.1%).
The annual inflation rate stood at 2.2% in June, down from 2.5% the month before. The general index for the month of June expressed in base 100 in 2015 was 108.68 points.