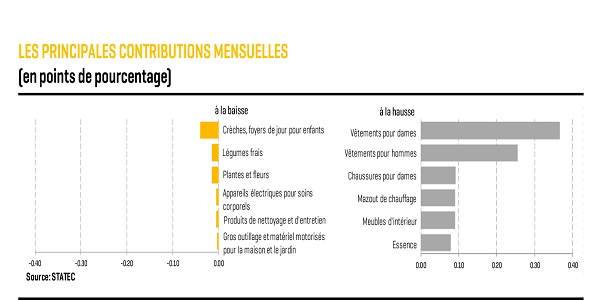 Credit: STATEC
The annual rate of inflation in Luxembourg has risen from -0.1% to 2.0%, according to STATEC.
Following the monthly decrease in February 2021 due to the winter sales, the consumer price index, calculated by STATEC, went up 1.4% in March. However, when neutralising the effect of higher prices due to the end of the winter sales period, the index increased by 0.4% compared to the previous month. This movement is mainly explained by an increase in the price of petroleum products.
The price of clothing and shoes increased by 19.4% whilst that of furniture and home appliances were up 1.9% over one month.
The price of petroleum products continued to increase for the fourth consecutive month (up 4.6% in March 2021). At the pump, motorists had to pay 4.2% more for a litre of diesel and 5.6% more for a litre of petrol compared to the previous month. Heating oil prices were also up 7.9%.
In March, food prices were 0.7% higher than the month before. Price increases particularly affected fish and seafood (up 2.2%), fresh fruit (up 1.5%), dairy products (up 1.0%) and meat (up 0.8%). The most significant price drops were observed for fresh vegetables (down 2.8%), breakfast cereals (down 2.2%) and frozen fish (down 1.9%). Over one year, food prices were up 1.4%.
Prices fell 1.7% for creches and day-care centres, whilst those of plants and flowers fell by 3.2% (a drop that followed price hikes around Valentine's Day).
The annual inflation rate reached 2.0% in March, up from -0.1% the month before. The general index for the month of March expressed in base 100 in 2015 amounted to 108.14 points.