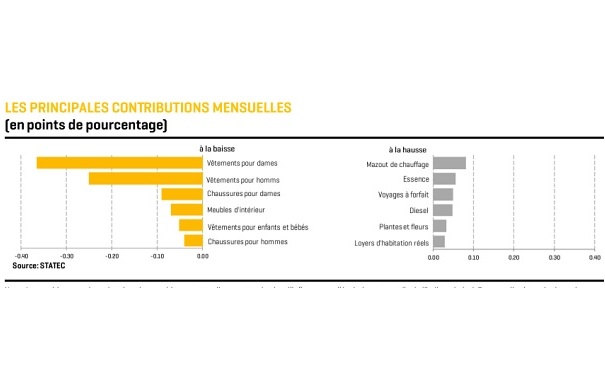 Credit: STATEC
The annual rate of inflation in Luxembourg has fallen from 1.9% to -0.1%, according to STATEC.
In February 2021, the national consumer price index, calculated by STATEC, dropped by 0.7% compared to the previous month. This decline is explained by the price reductions offered during the winter sales period. Neutralising variations due to the sales and excluding petroleum products, the prices of other goods and services increased by 0.1%.
Since the winter sales period was held later than usual this year, its effects are reflected in the figures for February rather than January 2021. The price of clothing and shoes fell by 16.2% in February compared to the previous month, although they were 1.1% higher than during the January 2020 sales. Furniture and home appliance prices also dropped during this year's sales period, although not to the same extent as those for clothing and shoes. These price drops are expected to be compensated in the next month, with goods having returned to their pre-sale prices.
On the other hand, package holiday prices rose by 6.6% over one month due to the school holidays, whilst the price of flowers and plants were up 7.9% in the context of Valentine's Day.
The price of petrol products were also up 4.5%, with heating oil bills 7.7% more expensive than January 2021. At the pump, motorists had to pay 4.9% more for a litre of diesel and 4.2% more for a litre of petrol compared to the previous month.
In February, food prices were 0.1% higher than the month before. Price increases particularly affected fresh fruit (up 2.2%), rice (up 1.5%) and olive oil (2.9%). The most significant price drops were observed for fish and seafood (down 2.3%), pizza and quiches (down 2.2%) and pork (down 1.7%). Over one year, food prices were up 1.0%.
The annual inflation rate thus fell from 1.9% in January to -0.1% in February 2021; neutralising the impact of the sales, this rate would rise to 0.9%. The general index for the month of February expressed in base 100 in 2015 amounted to 106.64 points.