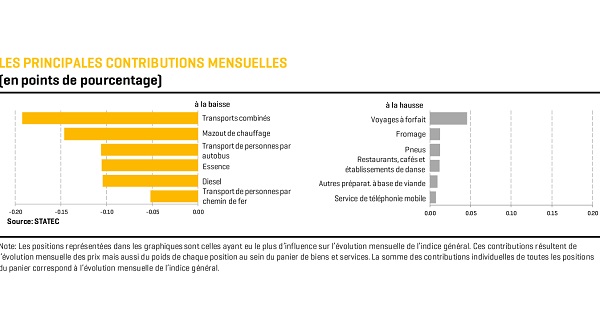 Credit: STATEC
The annual rate of inflation in Luxembourg has dropped from 1.7% to 0.9% over the past month, according to STATEC.
In March 2020, the national consumer price index, calculated by STATEC, fell by 0.6% compared to the previous month. This decrease has been mainly attributed to the introduction of free public transport as well as the drop in petroleum product prices.
Indeed, March saw the price of petroleum products fall by 7.0% overall compared to the previous month. The main contributor to this decrease was heating oil prices which fell by 15.0% over one month. Petrol prices (per litre) similarly dropped by 8.7% per litre and diesel prices (per litre) dropped by 8.1% compared to February.
In addition, the introduction of free public transport on 1 March affected the consumer price index in three areas: rail passenger transport (down 21.2%), bus passenger transport (down 42.8%) and combined road and rail public transport (down 87.5%). Conversely, taxi prices rose by 1.1% last month.
Food prices also rose by 0.4% month-on-month. In particular, the price of cheese (up 1.9%), yoghurt (up 1.5%), meat (up 1.0%) and fish and seafood (up 0.7%) influenced this increase. Fruit (down 0.6%) and vegetables (down 1.3%) witnessed the largest price drops in March. In comparison to last year, food prices were up 3.1%.
As for service prices, package holidays were 2.2% more expensive while airplane tickets were 3.0% cheaper than the previous month. Mobile phone subscriptions also saw tariffs increase in March 2020.
All things considered, the annual rate of inflation now stands at 0.9%, down from 1.7% the previous month. The general index for the month of March expressed in base 100 in 2015 amounted to 106.04 points.