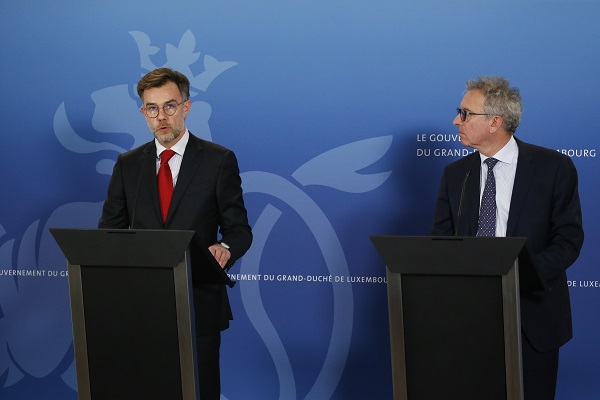 L-R: Economy Minister Franz Fayot; Finance Minister Pierre Gramegna; Credit: SIP / Julien Warnand
At a press briefing on Wednesday, Luxembourg's Minister of Finance, Pierre Gramegna, Minister of the Economy, Franz Fayot, and Minister for Small and Medium-Sized Businesses, Lex Delles, presented the government's stabilisation package for the economy during the coronavirus crisis.
As announced by Prime Minister Xavier Bettel in an earlier press briefing, the Luxembourg government is set to mobilise almost €9 billion (€8.8 billion), amounting to almost 15% of the country's GDP, to support the economy during the pandemic.
Ministers Gramegna, Fayot and Delles presented these measures in greater detail, explaining that the package is mainly aimed at addressing immediate liquidity requirements and cashflow difficulties, aiding corporate borrowing through state support and supporting employment.
More specifically, the €8.8 billion budget incorporates previous measures such as family leave and delayed tax payments and social security charges, as well as new subsidies and loan guarantees. For instance, the state will pay a non-repayable and non-taxable grant of €5,000 to small-sized businesses (with nine or fewer employees) that were forced to close due to coronavirus. In addition, companies of all sizes are eligible to apply for up to €500,000 in repayable financial aid to cover operating expenses.
The ministers explained that the government has also come to an agreement with several banks to postpone the repayment of existing credits. This is aimed at easing cashflow difficulties for businesses. Similarly, the government is set to adopt a state guarantee scheme for new bank loans for up to six years for companies. Regarding social contributions, companies can also apply for exemption for the first two quarters of the year.
On the subject of partial unemployment, where the government has agreed to cover 80% of salaries, Economy Minister Franz Fayot stated that the scheme had received over 5,000 applications since the start of the crisis.
The ministers added that the Société Nationale de Crédit et d'Investissement (SNCI), the national investment bank, will provide up to €600 million in loans to companies in need.
The stabilisation package may be subject to changes depending on the evolution of the coronavirus crisis.