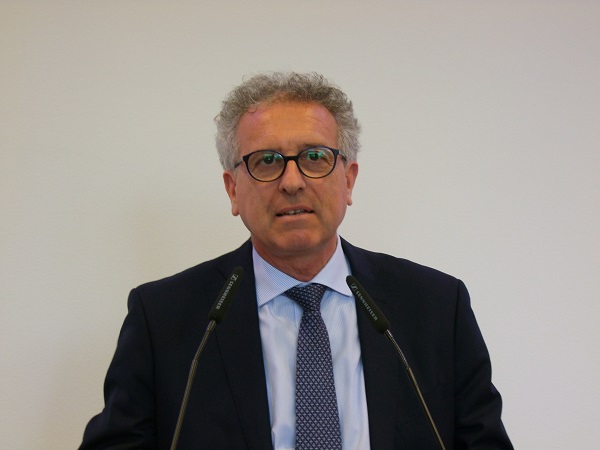 Minister of Finance Pierre Gramegna; Credit: Geoff Thompson
At the joint meeting of Luxembourg's Finance and Budget Committee (Cofibu) and the Committee on Budget Execution Control (Comexbu) of Monday 20 May 2019, Luxembourg's Minister of Finance, Pierre Gramegna, presented the budgetary situation of the first quarter (Q1) of 2019.
According to SEC2010 accounting standards, the revenues of the Central Administration increased by 13.3%. This positive trend is part of the continuity of recent years. On the one hand, it is a result of good economic conditions and on the other hand, it is the result of digitalisation efforts in tax collection.
In terms of expenditure, there was a decrease of 2.3% compared to the same period in 2018. Revenue thus continues to grow faster than spending, which is a sign of a healthy financial situation. As a result, the situation of the Central Administration improved by €677 million compared to the same period in 2018 and, as of 31 March 2019, it showed a surplus of €472 million.
According to the SEC2010, the balance of the government's accounts at the end of March 2019 showed a surplus of €501.5 million. Total revenues accumulated amounted to 81% of the 2019 voted budget, whilst expenditure represented 69% of the budget. Taking into account the proceeds of borrowing, the central government would show a surplus of +€1,987.5 million
Minister of Finance Pierre Gramegna commented: "I am pleased with the good performance of public finances in the first quarter of 2019. It is therefore with confidence that we can approach the execution of the final budget for 2019, which came into effect as of 1 May 2019. However, as developments in the first quarter do not allow conclusions to be made for the remainder of the year, the Ministry of Finance will continue to monitor budget execution rigorously."