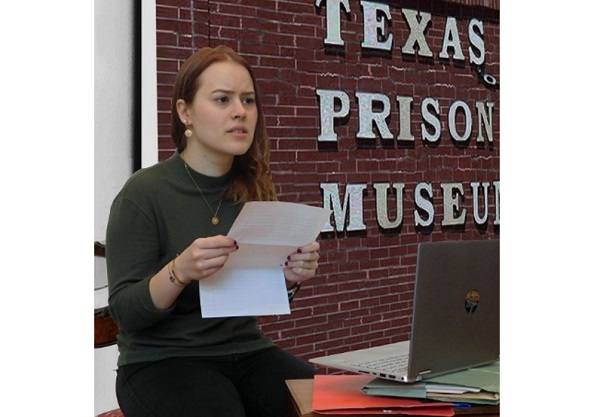 Lina Peller as Steph; Credit: BGT
Chronicle.lu got the opportunity to sit in on the closing night performance of the BGT English Theatre Company's latest production, "The Road to Huntsville", at Neumünster Abbey (neimënster) on Wednesday evening.
In an enthralling 75-minute one-woman show, Luxembourg actress Lina Peller gave a stellar performance in front of a relatively small (due to COVID-19 restrictions) but enthusiastic audience.
The play, written by Stephanie Ridings and directed on this occasion by Ferelith and Tony Kingston, follows the journey of Steph, a writer who is researching women who fall in love with men on death row.
What starts out as research and mere curiosity, however, soon leads to Steph's increasingly personal involvement in the subject: she drops everything, leaving her boyfriend, one-eyed cat and life in England temporarily behind and travels to Texas for one month to visit Johnny, the death row inmate with whom she has been corresponding for "research" purposes. Johnny has even proposed to her in one of his letters... And even though Steph recognises the absurdity of her new situation, she cannot help but fall deeper down the rabbit hole.
In Texas, she is pulled into a world of anti-death penalty advocates and dark tourism before meeting face-to-face (through a glass partition) with and eventually saying goodbye to her beloved Johnny. She later reads his final letter, discovering that she was not the only pen pal with whom he had had a romantic relationship. Reality sinks in as Steph prepares to return to her old life (what is left of it) in England.
BGT's "The Road to Huntsville" is meticulously researched, as evidenced by the use of statistics from the Texas Department of Criminal Justice, with a multimedia approach (voiceovers, projections, etc.) and a simple but versatile set design by Laura Burman. The star of the show, the charismatic Lina Peller, truly rises to the challenge of putting on a one-woman show in this moving, at times witty play, pulling her audience with her into the fascinating subject of death row romances and the controversial but ever relevant topic of the death penalty.
The closing performance was met with a huge round of applause from an audience left moved by Lina Peller's portrayal of a writer who gets more than she bargained for in her research process.