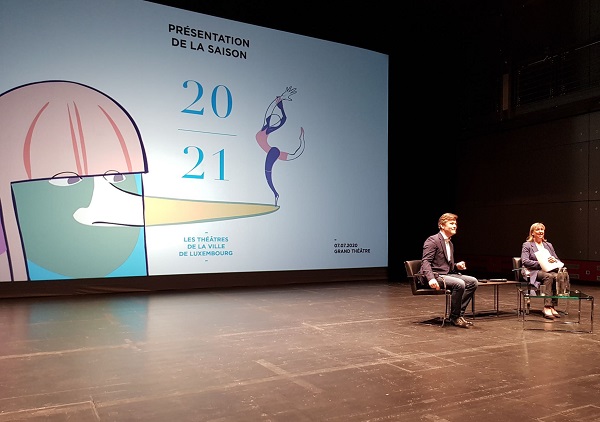 L-R: Tom Leick-Burns, Director of the Théâtres de la Ville de Luxembourg; Lydie Polfer, Mayor of the City of Luxembourg; Credit: Jazmin Campbell
The College of Aldermen of the City of Luxembourg and Tom Leick-Burns, Director of the Théâtres de la Ville de Luxembourg, presented on Tuesday morning the 2020-21 season of the Théâtres.
On this occasion, Luxembourg City Mayor Lydie Polfer confirmed that 31 out of 52 planned productions would go ahead this new season, with ten having been cancelled and eleven postponed due to the three-month confinement period related to the COVID-19 pandemic. During this period, the City and the Théâtres worked closely with artists and partners, with efforts being made to postpone rather than completely cancel projects (where possible).
The confinement period also saw the Théâtres remain engaged with spectators through social media and its YouTube channel. Tom Leick-Burns later confirmed that the #theaterdoheem programme received over 3,700 clicks. Mayor Lydie Polfer added that the City has been working also with smaller theatres where they do not have the space to respect current sanitary guidelines. She empasised the continued importance of solidarity and responsibility, not least due to a recent increase in new infections in Luxembourg.
Before turning to the season presentation, Tom Leick-Burns added that the Théâtres had engaged in discussions with different European countries and that they wish to continue this solidarity in future. Indeed, he stated that the theatrical return in Luxembourg was based on solidarity and creation.
One highlight of the new season is the Red Bridge Project, developed in collaboration with MUDAM, the Philharmonie and the Luxembourg Philharmonic Orchestra. The project, which centres this year around South African artist William Kentridge, will launch on 12 November 2020, on the same day as the launch of "Rainy Days" at the Philharmonie, and will run until June 2021. Programme changes are expected from January 2021. The TalentLab goes Red Bridge Project will run from 28 May to 6 June 2021 in collaboration with the Centre for the Less Good Idea in Johannesburg.
The 2020-21 season also features thirteen "house" creations and co-productions with a strong collaborative aspect. The programme kicks off in October 2020 with Henrik Ibsen's French-language creation "Hedda Gabler". Other highlights include two dance creations by local artists Elisabeth Schilling and Jill Crovisier respectively in December and the Luxembourg-Belgian co-production by Alfred de Musset "On ne badine pas avec l'amour".
Tom Leick-Burns turned his attention to the English-language theatre season, which has been particularly hard hit by the pandemic. He noted that the situation in the UK is difficult with theatres expected to remain closed until the end of the year and international tours suspended until spring or autumn next year. As such, many planned projects will no longer take place, although the Théâtres is looking to postpone these until the next season. Nevertheless, Luxembourg's Anne Simon is directing the English-language production "The Hothouse", a project the Théâtres has apparently been hoping to tackle for years. Mr Leick-Burns stated that the play would take place in an undisclosed location, which should fit and "give true justice" to this immersive performance in March/April 2021.
"Mendy – Das Wusical", featuring several actors and singers from Luxembourg and Germany, will complete the programme in April/May 2021.
Regarding international touring, Luxembourg production "Breaking the Waves" will go on tour in Belgium and France early next year, with Luxembourg spectators able to watch the show for the last time as part of an excursion to Nancy on 5 February 2021. Other projects set to go on tour include "Süden", "Hedda Gabler", "AppHuman" and " On ne badine pas avec l'amour".
Whilst this season's thematic cycle about Europe could not go ahead due to the pandemic, the upcoming season will present two cycles: one entitled "Cycle destins de femmes", which will tackle various feminist subjects, and the other entitled "Cycle Afrique", which is inspired by the African continent.
In addition, Lisbon's Teatro Nacional D. Maria II will bring two works by Tiago Rodrigues ("By Heart" and "Sopro") to the Théâtre des Capucins and the International Theater Amsterdam will spend one week in Luxembourg in January 2021. The latter will present the productions "Song from far away" and "The good hope".
Tom Leick-Burns added that the Théâtres and their partners had managed to postpone one of his personal highlights of last season: "What if they went to Moscow". Whilst no dates could be found in Luxembourg, the production is set to feature at the Festival Passages in Metz (France) and a coach trip is being planned for Luxembourg spectators wishing to watch it on 14 May 2021.
Regarding concerts, the Théâtres maintained their collaboration with the Luxembourg Philharmonic Orchestra; "An evening of opera" will launch the musical season. In addition, due to popular venues in the UK and other locations having to cancel their shows, the Théâtres have managed to book some artists which normally require booking far in advance. However, opera will not return in Luxembourg until February 2021. On the agenda is "Pygmalion" and "Macbeth Underworld", among others, as well as various Red Bridge Project works.
Tom Leick-Burns added that it will not be until January 2021 that a "normal" dance programme can resume, although the Théâtres did manage to postpone some promising projects from the last season, such as "Premier(s) Pas".
There will be no paper brochure for the 2020-21 season although this can be viewed online. Instead, a calendar with reservation vouchers will be available for those wishing to book their seats. Sales begin on 7 September 2020. Tom Leick-Burns concluded that the Théâtres and their partners were working to ensure physical distance and other guidelines are respected, although the main aim to to facilitate going to the theatre.
The digital presentation of the new season, initially set to take place at Théâtre des Capucins for subscribers, will be held this evening at 18:30 on YouTube.
The full programme and ticketing are available on theatres.lu.