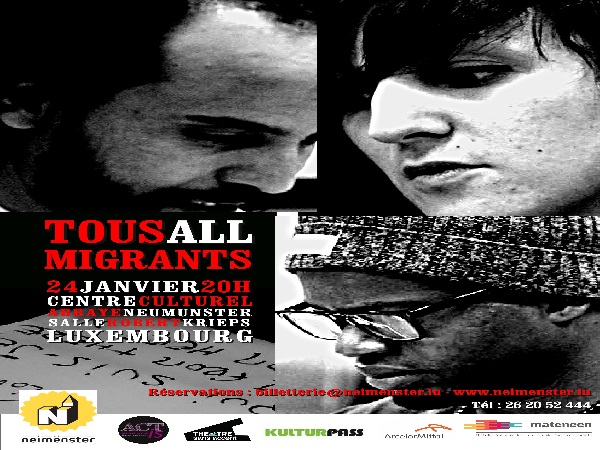 The ACTIS Compagnie is presenting a new stage production by Tous/All Migrants on 24 January 2019 at the Abbaye de Neumünster at 20:00.
Following the success of its production last July at the Théâtre National du Luxembourg, the ACTIS Compagnie has organised another by Tous/All Migrants, a group of asylum seekers, refugees and other members of Luxembourg society. The members represent some 15 nationalities all living in the Grand Duchy.
The project was initially addressed to refugees who, after travelling great distances and sometimes in extremely difficult conditions, found themselves in Luxembourg, a country that has become their land of temporary or permanent asylum. The project was then expended to Luxembourg residents whether they were immigrants or not, native or expats, wishing to share their own stories.
The message of this "refugees-residents" project is important: to erase prejudices in whatever way possible, and this is reflected in the stage production of Tous/All Migrants. This is a very visual theatre play that makes the audience think and question society. The 25 actors will take viewers on an emotional journey through the lives of migrants and thus offer an insight into their vision of the migration situation in Europe and Luxembourg. Far from clichés and prejudices, the production aims to humanise the subject.
After the show, an exchange between the actors and the audience will take place.
Further information and tickets are available online at https://www.neimenster.lu/Culture/Offre-diversifiee-Calendrier-shop-visites/Programmation/Scenes/Tous-All-Migrants-Thursday-24-January-2019-8-00-00-pm, via tel.: +352 26 20 52 444 or email: billetterie@neimenster.lu.