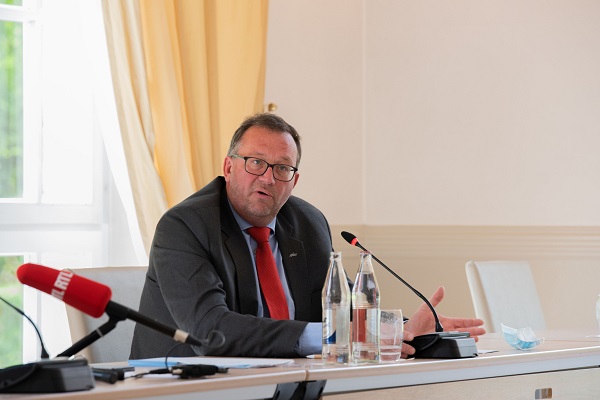 Pierre Plumer, Director General at MONDORF Domaine Thermal;
The MONDORF Domaine Thermal, the thermal and health centre located in Mondorf-les-Bains, has posted a €4.47 million deficit for its 2020 financial year, as it was heavily impacted by the COVID-19 pandemic; however, it is reopening most of its facilities according to the lessening of government restrictions.
The COVID-19 pandemic has had a significant impact on daily life, and therefore on the 2020 results, of the Thermal and Health Centre. After several years during which the establishment was able to report positive results year on year, the pandemic has resulted in a deficit of €4.47 million as of 31 December 2020. However, this deficit will be partially depreciated by deferred reimbursement by the Health department.
Despite a reduction of almost €12 million in turnover, the result was brought under control first of all through prudent administrative and financial management as well as supportive and committed staff. This loss was also depreciated thanks to state aid for companies (e.g. short-time working), which also made it possible to fully preserve the employment of the 320 employees.
Looking back through 2020, during the first confinement in Luxembourg and in our neighbouring countries, all of the centre's activities were shut down (health, hotels, spa, wellness, fitness, restaurants, events). Fortunately, medical cures were able to resume in June for the well-being and health of the Domaine Thermal patients. Limited in number in order to preserve sanitary measures, the cancelled cures could be postponed and rescheduled until 2021.
Like the Health department, the Domaine Thermal's commercial activities gradually reopened their doors, but only the Mondorf Parc Hôtel **** and the Spa (relaxation treatments) were able to remain accessible. Holders of accommodation vouchers used them at the Hotel du Domaine which thus saw a satisfactory occupancy rate, also thanks to the strategy of providing specially-equipped rooms for bistro-nomic meals.
In addition, the Time subscriptions and packages of the Wellness & Fitness department have been extended for the duration when the facilities are inaccessible.
The MONDORF Domaine Thermal, when it reopened, was delighted that no COVID-19 clusters were reported, either among clients / patients or among staff. The management, supported by the Board of Directors, encouraged the health personnel of the Spa Centre to be vaccinated.
The level of investment in the centre remains high. In addition to the development of certain activities, the Health department has acquired new active rehabilitation devices (DAVID), while the hotel has been able to take advantage of the few weeks of closure to modernise some of its infrastructure. A new project, in collaboration with the Rehazenter, is currently in the planning phase for the implementation of long-term Post-Covid treatments (termed "Long Covid").
News / reminders:
- The mondorf.lu website was redesigned
- Since October 2020, gift vouchers are now available digitally
- HEALTH:
o DAVID (formerly DBC): new active rehabilitation devices - PARC:
o Development of educational displays in the spa park (coming soon)
o New orchard with more than 150 fruit trees planted
o 18 beehives in the thermal park
o The park, a beautiful environment for the organisation of private or professional events
- ACCOMMODATION:
o €50 accommodation vouchers are accepted at Mondorf Parc Hôtel **** until 15 September
o Special stay offer when restaurants are closed: a room dedicated exclusively for a dinner for 2.
- RESTAURANTS:
o The Brasserie Maus Kätti and the Chalet am Brill are now open (both outdoor terraces and indoor dining)
- WELLNESS & FITNESS:
o Reopened on 4 May 2021 to all customers (all areas except the hammams)
o New entry mode from 1 June (same philosophy as in summer 2020)