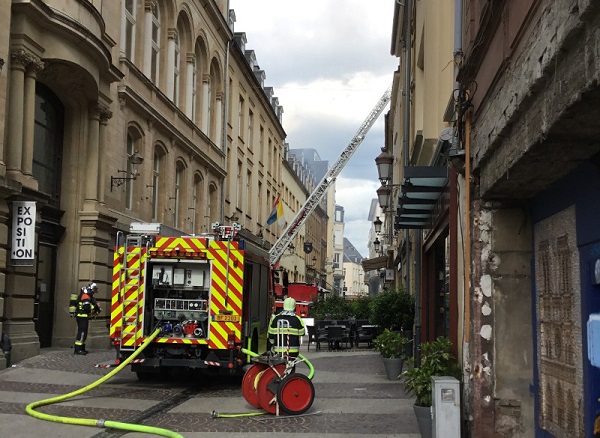 Fire damage at Brasserie Guillaume in May 2019; Credit: Police Grand-Ducale
After fifteen months of work and development, the Brasserie Guillaume, located in Place Guillaume II in Luxembourg-ville, will reopen its doors on 1 August 2020.
It took no fifteen months of work and renovations, orchestrated by the owner of Brasserie Guillaume and the City of Luxembourg, to repair the damage caused by a fire which broke out in the establishment in May 2019. Nonetheless, the incident provided the brasserie with an opportunity to get a makeover.
Architect Rodolphe Mertens was entrusted with the mission of renewing the Art Deco spirit of Brasserie Guillaume. The Parisian style of the 1930s remains present in the layout of the rooms on the ground floor as well as upstairs, whilst artists and craftspeople have managed to create a unique setting and restore the authenticity of each detail of the new decor. Wood panelling, zinc, bevelled mirrors, cement tiles, art metalwork and Italian marble will adorn the central bar and benches.
In terms of cuisine, there is no change to the menu with traditional brasserie dishes, carpaccios and seafood, which can be enjoyed in the establishment or for take away. Two to three weekly deliveries mean that there is an enhanced offer of line-caught and wild fish, arriving directly from the Normandy, Brittany and Rungis markets in France.