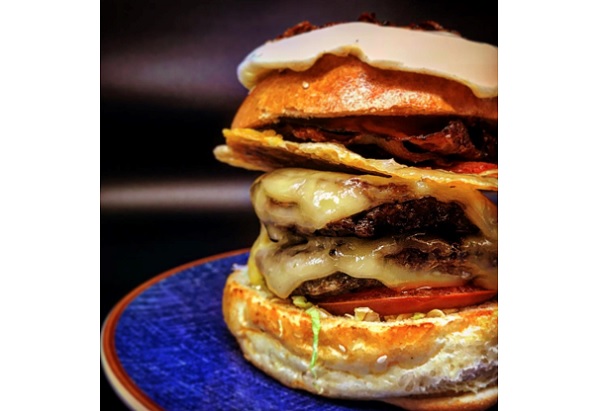 Snooze burger;
Big 7 Travel, the global travel site, has put together the list of the ultimate burgers from throughout Europe.
In the Top50 list, London's ​Burger and Beyond​ came in 1st place, with Copenhagen and Prague following closely behind; Snooze Sportsbar (27 Rue Philippe II, L-2340 Luxembourg-ville) came in at #50, voted the top burger in the Grand Duchy.
Nothing beats a good juicy burger. It's often one of the first things we reach for when arriving in a new city, because of both its reliability and pure deliciousness... With travellers starting to think about shaking off the winter cold and hitting up Europe for their holidays over the coming months, Big 7 Travel put together the list of the ultimate burgers so that travellers are never stuck for a cheat meal fix again.

While the United Kingdom scored highly overall, mainland Europe also impressed on the burger front, with both Hungary and Sweden making the Top 10.

From old classics keeping things simple to a new wave of creative burger toppings, these are the 50 best places to grab a burger in Europe this year.
Top 10
1. Burger And Beyond – London, United Kingdom
2. Gasoline Grill – Copenhagen, Denmark
3. Dish – Prague, Czech Republic
4. Patty And Bun – London, United Kingdom
5. Bamba Marha Burger Bar – Budapest, Hungary
6. Barrels Burgers & Beer – Stockholm, Sweden
7. Bunsen – Dubin, Ireland
8. Burger Bar – Amsterdam, Netherlands
9. Burgermeister – Berlin, Germany
10.The Beef Chief – Amsterdam, Netherlands

How did Big 7 Travel come up with the final list of the 50 Best Burgers in Europe? Finalists were selected from the current countries of the European Union; Every country has at least one entry; some have more than one entry if high quality; Votes were cast in poll of Big 7 readers, across its 1.5million community on social media and by a panel of coffee experts; Online reviews, previous media coverage and notable blogs were also included in the overall rating.