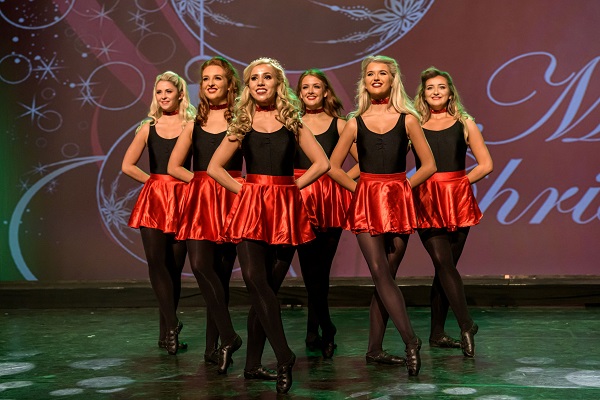 The National Dance Academy of Ireland will perform their show "Rhythm of the Dance - Christmas Special" on Friday 9 December 2022 at 20:00 at the Trifolion in Echternach (Porte St. Willlibrord).
In addition to various performances around the world, the National Dance Academy of Ireland is bringing to Luxembourg their brand new, spectacular Christmas show. They have been presenting "Rhythm of the Dance" on the stages of the world for over two decades, and have won a loyal fan base with several guest performances.
Rhythm of the Dance "is a dynamic Irish dance show with lots of costume changes, talented musicians, virtuoso vocalists and tireless dancers. Allow yourself to be seduced by the dancers, supplemented by live musicians and vocalists".
With a unique mixture of folklore, dance and selected stage effects, the dance show is breath-taking. Since its debut, Rhythm Of The Dance has reached over 4.5 million viewers and has been seen in more than 40 countries. The two-hour show combines the energy and passion of Irish and modern dance with beautiful, romantic dance scenes, mystical sounds with Irish rhythms and dancing precision with athletic excellence - in combination with an elaborate light show and imaginative costumes, it is an unforgettable experience that is guaranteed to please.
With an average age of 24 years, the top Irish artistes (22 dancers and their multi-member band) will present in an original way a combination of modern and traditional Irish dance in spectacular fashion. The audience accompanies the actors on a festive journey and can be captivated by the very special magic of Christmas. This Christmas Special combines well-known, traditional, international Christmas songs with the unmistakable spirit of Irish dance.
Enjoy an unparalleled spectacle, a sparkling night of music, fantastic costumes and rousing dance.
Tickets cost €57, €60, €63, €70 and can be purchased in advance at the Trifolion Echternach (www.trifolion.lu), www.kultopolis.com, www.luxembourg-ticket.lu or by tel: 470895-1.