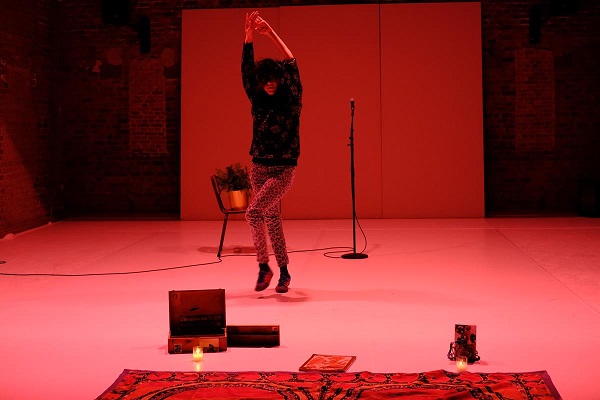 Lara Barsacq; Credit: Yves Pezet
Brussels-based choreographer, dancer and actress Lara Barsacq will be performing her show "Lost in Ballets Russes" at Banannefabrik in Luxembourg-Bonnevoie on Saturday 14 May 2022 at 19:00; doors open at 18:30.
The great-grandniece of Léon Bakst, the renowned painter, decorator and costume designer of the Ballets Russes, Lara Barsacq spent her childhood immersed in his revolutionary and abundant work. She was deeply influenced by the artist's reproductions, including those of his muse, the exotic dancer Ida Rubinstein.
In "Lost in Ballets Russes", Lara Barsacq draws from her memory both drawings of her great-uncle and objects from the 1970s to create an autobiographical piece in homage to her father, envisaging his dance as a rite that transcends time.
Lara Barsacq is a resident choreographer at Charleroi Danse, which is committed to producing, presenting and accompanying her work from 2020 to the end of 2022.
Tickets cost €20 (reduced: €7) or €1.50 with a Kulturpass and can be purchased online at: https://tickets.ticket.monster/events/362745/info?distributionId=171743
Further information is available at: https://www.danse.lu/agenda/ho%D1%8Fs-ci%D1%8Fcuits-lost-in-ballets-russes/?lang=en