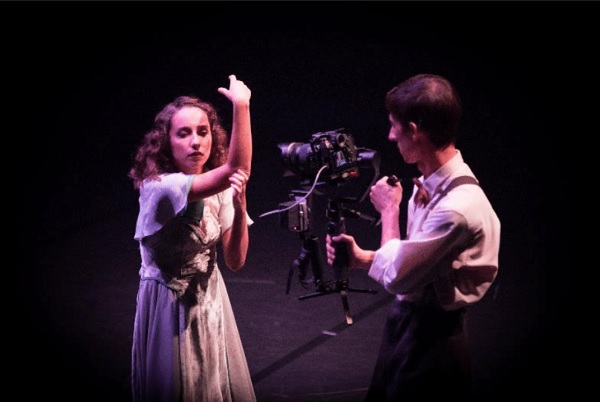 "Shoot the cameraman"; Credit: CAPE
CAPE - Centre des Arts Pluriels Ettelbruck and the Kinneksbond, Centre Culturel Mamer have announced that they are joining forces at the end of the month to offer audiences a choreographic journey presenting the new creations of two young Luxembourg companies.
On Thursday 27 February (premiere) at 20:00 and on Friday 28 February 2020 (school session) at 10:00, CAPE will present "Shoot the cameraman", a production by the Compagnie AWA - As We Are (Baptiste Hilbert and Catarina Barbosa), which mixes instinctive and spontaneous live performance with the possibilities of cinema.
Similarly, on Thursday 27 and Friday 28 February 2020 at 20:00, Kinneksbond will present a double bill from Sarah Baltzinger: "What does not belong to us", a breathtaking duo carried by two virtuoso performers, and "Don't you see it coming", a solo piece of rare intensity, loosely inspired by Charles Perrault's tale "La Barbe bleue". This marks the national premiere of the latter.
"Shoot the cameraman" is a coproduction between the Compagnie AWA and the Théâtres de la Ville de Luxembourg, the National Culture Fund (FOCUNA), CAPE, Rotondes and the Centre chorégraphique national (CCN) de Mulhouse at the Opéra National du Rhin. The show lasts 60 minutes. Tickets cost €21, €10.50 for under-26s or €1.50 with a Kulturpass and can be purchased via tel.: 268-12681, email: billetterie @cape.lu or online from www.cape.lu.
Co-produced by Compagnie Mirage and SB Company, both "What does not belong to us" and "Don't you see it coming" feature choreography and dance from Sarah Baltzinger. Tickets cost €20, €8 (reduced) or €1.50 with the Kulturpass. Half an hour before each performance, Julie Gothuey, a researcher in performing arts, will provide an introduction, in French. For more information and to purchase tickets, see http://www.kinneksbond.lu/fr/4/eid,3635/agenda/arts-de-la-scene/SARAH+BALTZINGER+%7C+DOUBLE+BILL.html.
At CAPE, spectators also have the opportunity to combine their attendance at the show with a visit to the zero panorama exhibition by Serge Ecker, the opening of which will take place on Wednesday 26 February 2020.