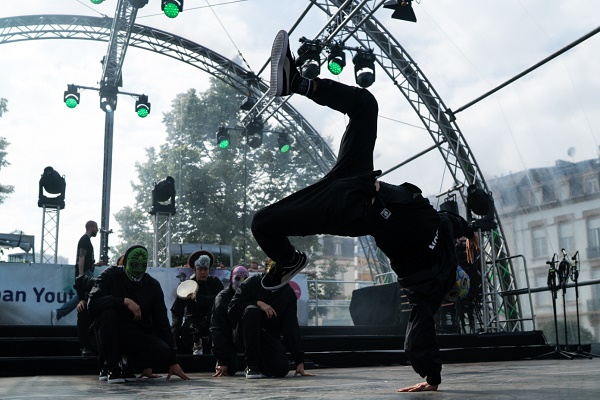 Credit: Sven Becker
This Saturday 15 June 2019, 23 dance groups will participate in the tenth Intra Urban Youth Dance Festival in Luxembourg.
Organised by the Youth and Social Action Department of the Ville de Luxembourg in collaboration with the Luxembourg City Tourist Office, this dance festival is characterised by a non-competitive approach that highlights the different styles of urban dance (hip-hop, break-dance) and aims to encourage young people from dance groups in the Greater Region and youth clubs in Luxembourg to present their choreographies on an open-air stage.
Between 15:30 and 18:00, 23 groups, including fifteen from Luxembourg, four from France, three from Germany and one from Belgium, will perform in Place Guillaume II.
Line-up:
Limitless Crew (Luxembourg); The Rejects (Luxembourg); Key to Arts (Luxembourg); JAL'Z (Luxembourg); Beats'n'Motion (Germany); Art in Motion - Advanced (Luxembourg); Sport Vitalité Pré Hip Hop (France): Lil Soliders (Luxembourg); Wolfpack (Luxembourg); VVS (Luxembourg); Art in Motion - Intermediate (Luxembourg); Sport Vitalité Hip Hip (France); Reminiscence (Luxembourg); M.J. Links (Belgium); Art in Motion - Beginners (Luxembourg); Take Your Time (Germany); Lost & Found (Luxembourg); LX Team (Luxembourg); Mash-Up (Luxembourg); Mixité Junior (France); Sport Vitalité Modern Jazz (France); Soul Crushers (Luxembourg); 2. Chance Saarland E.V- (Germany).
Then, from 19:00 to 22:00, spectators will have the opportunity to discover on the same stage the Future Talent Stage, a festival that allows beginners of the music scene of Luxembourg and the Greater Region to show their know-how. For this second edition of Future Talent Stage, "C'est Karma", "Castelló" and "Mafalda Yohanna - B.P.M" have confirmed their participation. The Future Talent Stage is an initiative of the Youth and Social Action Department of the City of Luxembourg, with the support of David Galassi (De Läb an de Läbbel) and Kristian Horsburgh (Trust in Talent).