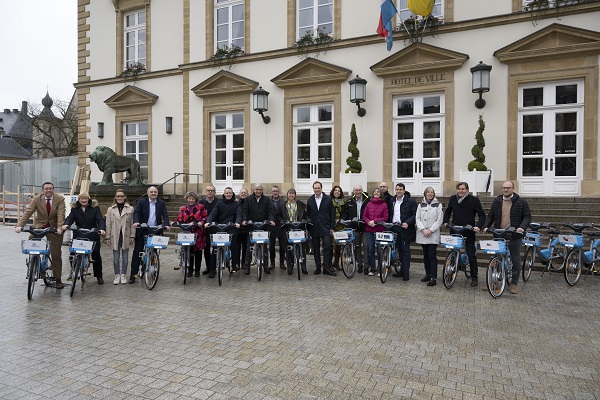 Credit: VdL Photothèque/Charles Soubry
The vel'OH! shared bicycle service celebrated its fifteenth anniversary this month; to mark this occasion, a new vel'OH! station in Luxembourg-Beggen entered into service on Tuesday 21 March 2023.
The College of the Mayor and Aldermen of the City of Luxembourg (Ville de Luxembourg - VdL) hosted a celebratory event on this occasion. They were joined by representatives from the neighbouring municipalities that joined the network when they opened stations in their local districts and from the network operator JCDecaux.
This event saw the opening of the new "Halanzy" station in the Beggen district, marking the expansion of the network to include the northern part of the municipal territory. It also saw the announcement that the municipality of Walferdange will join the vel'OH! network later this year.
Following a call for applications to set up and operate a shared bicycle service, the VdL awarded a first contract to JCDecaux Luxembourg SA for a ten-year period starting in 2008. At the time of its launch, the vel'OH! network comprised 25 stations distributed across Luxembourg City's central districts, namely the city centre, Gare, Belair, Limpertsberg and Kirchberg. In 2011, the municipalities of Hesperange and Strassen joined this initiative, with each of them opening four stations in their respective territories.
In 2017, the VdL decided to move forward by providing for the rollout of a new generation of pedal-assist electric vel'OH! bicycles as part of a second contract. This task was a first for JCDecaux, the winner of the new contract. When the second phase launched in November 2018, 79 new stations were opened and 720 pedal-assist electric bicycles were put into circulation. More new stations were subsequently opened in the capital and the network was further extended when the municipality of Bertrange joined in 2018, followed by those of Leudelange, Mamer and Niederanven in 2021. Today, the vel'OH! network comprises 124 stations, including 89 on the VdL territory and 35 in neighbouring municipalities. A new station on Rue Charles Darwin, near the entrance to the future Ban de Gasperich park, is scheduled to open in late March 2023.
At the end of the launch year in 2008, the vel'OH! network counted 3,723 long-term subscribers. By the end of December 2019, this number had grown to 15,883. In 2022, the network counted 22,073 long-term subscribers and 51,461 short-term subscribers.