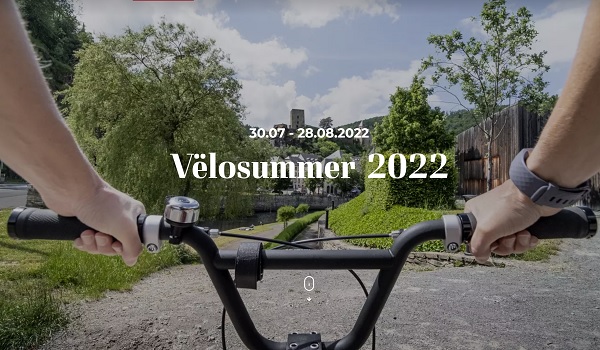 Credit: Visit Luxembourg
Friday 29 July 2022 marked the launch of the "Vëlosummer 2022" cycling initiative, in the presence of Luxembourg's Deputy Prime Minister and Minister for Mobility and Public Works, François Bausch, and the Minister for Tourism, Lex Delles.
Following the success of the second edition of this initiative, "Vëlosummer 2021", which attracted 20,000 participating cyclists, the third edition will start this Saturday 30 July and will run until Sunday 28 August 2022. This year, a total of eleven bicycle-tour routes with more than 450 kilometres of roads in 56 different municipalities are available to participants.
Minister Bausch commented: "The Vëlosummer 2022 is an excellent opportunity offering all participants a wide variety of attractive cycle-tourism circuits in order to discover Luxembourg and make way for cycling in a consistent way. The practice of cycling is ideally learned during free time".
Minister Delles added: "It's really a unique combination: on the one hand the opportunity to practise a convivial and sporty activity in the open air, and on the other hand the possibility of (re-)discovering our country and to let yourself be enchanted by its most beautiful corners".
The types of route, the levels of difficulty, the characteristics of each tour as well as other useful information for participants are available on the website https://www.visitluxembourg.com/velosummer or via the "VisitLuxembourg" mobile application.
In addition, the luggage service of Luxembourg's General Directorate for Tourism (https://www.movewecarry.lu/) will once again allow cyclists to have their luggage delivered from one accommodation to another. Certified "bed+bike" accommodation will also be available to bicycle tourists (https://www.bedandbike.lu/).