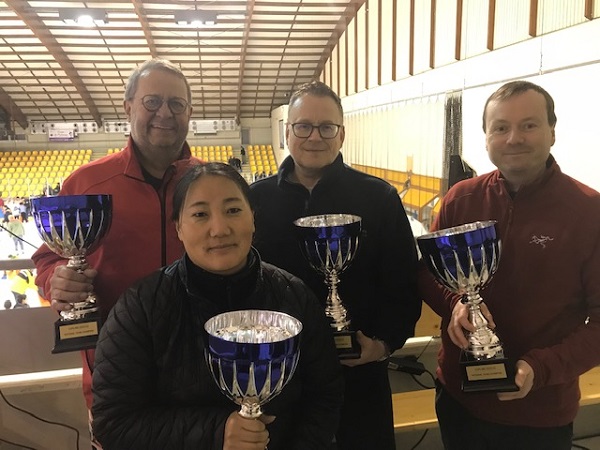 L-R: Alex Benoy; Maja Gildhoff; Marco Etienne; Claude Schweitzer; Credit: Curling Luxembourg
The Luxembourg Curling Union has confirmed that Curling Club Lëtzebuerg 1 won the Luxembourg Curling National Team Championship 2022/23.
The national championship finals took place in a double round robin (everyone against everyone, twice) at the Kockelscheuer Ice Rink on Saturday 28 and Sunday 29 January 2023.
The finals lasted until Sunday evening, when the first team of defending champions Curling Club Lëtzebuerg's first team emerged victorious.
Alex Benoy, Maja Gildhoff, Marco Etienne and Claude Schweitzer won their four games: 9-4 and 9-3 against Curling Club Red Lions and 11-3 and 5-2 against Curling Club Lëtzebuerg 2.
Curling Club Red Lions took second place by defeating Curling Club Lëtzebuerg 2 7-3 and 5-4.
According to the Luxembourg Curling Union, all six games were "hard fought" and ultimately, "everyone was happy to have spent a nice weekend together, played in the Spirit of Curling" - as reiterated by Dan Kelly, the association's Vice President, during the "wine of honour".