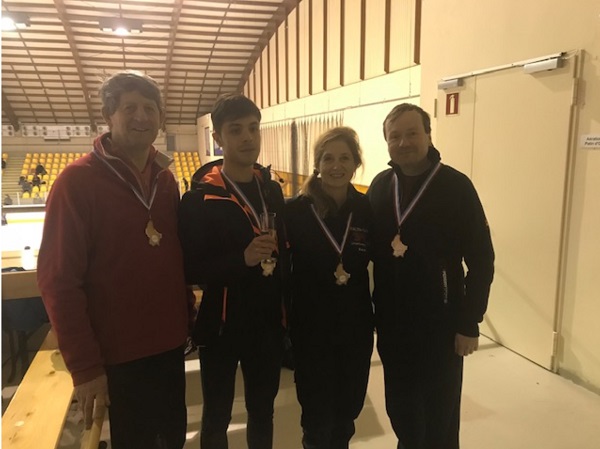 Winning team (L-R): Claude Schweitzer; Karen Wauters; Ali Khaleghi; Barry Foulds; Credit: Curling Luxembourg
The finals of the Luxembourg Curling National Team Championship 2019/20 took place over the weekend at Kockelscheuer.
Three teams participated in the Curling National Team Championship, including a youth team for the first time. The teams played a Double Round Robin (each team against all other teams).
The winning team, after two very close and well-played games, was that of Claude Schweitzer, Karen Wauters, Ali Khaleghi and Barry Foulds with four victories.
Second place went to Team Alex Benoy, Philippe Giltaire, Mike Isenor and Volker Beba with two victories.
Despite visible improvement throughout the weekend, the youth team failed to secure a victory and ultimately came in third place. This team was composed of Virginie Hansen, Andreia Moreira, Omar Ramirez Sanchez and Maelle Wallin.