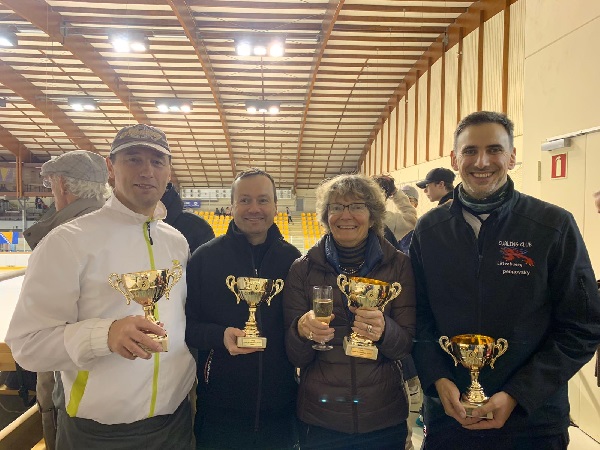 L-R: Philippe Giltaire; Claude Schweitzer; Candice Richards; Aljaz Pengov; Credit: Luxembourg Curling
Luxembourg Curling has announced that the winner of this year's "Coupe de Luxembourg" is Team Schweitzer.
The finals of this year's curling cup were held on Sunday at the Kockelscheuer with Claude Schweitzer's team ultimately prevailing with the very last stone around 15:00.
Results:
Team Kelly vs Team Wauters 6-2 Stones (4-1 Ends)
Team Schweitzer vs Team Benoy 5-3 Stones (4-2 Ends)
Team Kelly vs Team Schweitzer 2-7 Stones (1-4 Ends)
Team Wauters vs Team Benoy 5-2 Stones (3-2 Ends)
Team Kelly vs Team Benoy 4-5 Stones (2-4 Ends)
Team Wauters vs Team Schweitzer 8-3 Stones (3-3 Ends)
Team Schweitzer, composed of Claude Schweitzer, Philippe Giltaire, Aljaz Pengov and Candice Richards, won first place overall with four points, followed by Team Wauters, which also had four points (decision by 2 shots at the centre of the house 40 meters away: 60.5 - 137.5 cm) in second place and Team Benoy in third place with two points and eight finishes. Fourth place went to Team Kelly with two points and seven finishes.
The tournament also marked the first time that five youth players competed among the seventeen players.