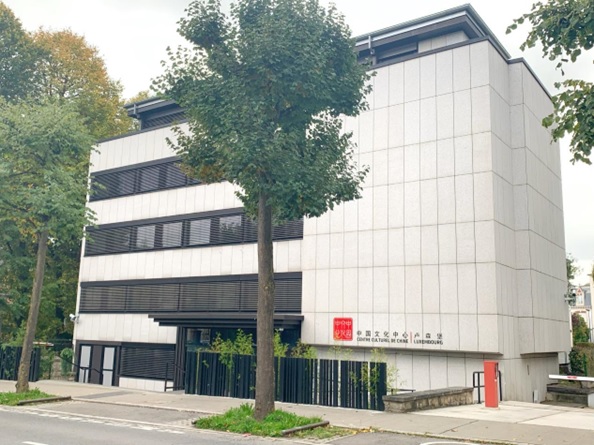 The China Cultural Center in Luxembourg (CCCL) is a significant project initiated by one of the primary third national communities in the Grand Duchy of Luxembourg; in advance of its opening, Chronicle.lu spoke with its director, Zhang Jing.
Chronicle.lu: The China Cultural Center in Luxembourg (CCCL) is being located at 3 Boulevard Joseph II in Luxembourg City and is scheduled to open on 8 November 2022: please tell us how the project came about.
Zhang Jing: The CCCL is one of the 45 China Cultural Centers outside of China. China believes that mutual respect of cultures and cultural exchanges are vital in maintaining peace and harmony of the world and are in the common interest of the mankind.
East and west need to know more about the lifestyle, way of thinking of each other. The Chinese people are quite familiar with western culture and have a considerable knowledge of European literature, art and cinema, etc. But European friends seem not to know so much about China.
We have set up the cultural centre in Luxembourg with the aim to building stronger cultural relations and promoting mutual understanding between two peoples. We hope the centre will serve as a gateway for people in Luxembourg to Chinese culture and China as a whole.
Chronicle.lu: The four-storey building has been renovated and decorated over the past two years: please tell us the main changes that have been made.
Zhang Jing: The building was already in good condition, so no major changes were made. During the renovation, we divided the space according to the needs of the cultural centre's functions, added various equipment required for holding cultural events, installed ventilation systems and fire safety systems according to the requirements of Luxembourg laws and regulations. The renovated building is now equipped with a multifunctional hall, an exhibition hall, classrooms, a library, etc., in purpose to better serve our Luxembourg friends with their Chinese cultural experience.
Chronicle.lu: How large (square metres) is the China Cultural Center and what will it offer (permanent / temporary exhibitions? Language teaching?)
Zhang Jing: The building is approximately about 1,000 square metres.
We are offering cultural events, training courses and an information service. In the future, we will regularly show Chinese films, offer cultural courses such as Chinese musical instruments, calligraphy and cooking if possible, present performances, concerts and exhibitions made by Chinese and Luxembourgish artists from time to time. The library at the centre houses 3,000 books about China and Chinese culture in Chinese, French, German and English.
Chronicle.lu: Please tell us about the first exhibition that will be on view at the CCCL.
Zhang Jing: The year of 2022 marks the 50th anniversary of the establishment of diplomatic relations between China and Luxembourg. In order to celebrate this special occasion, a photo exhibition on this theme will be on the day of the opening of our centre.
From the exhibition, visitors will be able to learn about the history of the development of diplomatic relations between China and Luxembourg, the co-operation between China and Luxembourg in different fields such as economy, trade, cultural and people to people's exchanges, etc.
Chronicle.lu: For those interested in visiting China, will the CCCL provide any tourism information, complementing the work of the Chinese Embassy in Luxembourg?
Zhang Jing: The China Cultural Center in Luxembourg has different functions from those of the Chinese Embassy in Luxembourg.
The China Cultural Center is happy to offer comprehensive information on tourism in China to the Luxembourg public.
Luxembourgers interested in China tourism can find information on our website and on social media platforms, as well as information brochures and books about China tourism in our library and at the reception desk. We are also looking forward to establishing contacts with the relevant institutions, to promote cooperation and exchange between Luxembourg tourism agencies and Chinese tourism agencies.
We wish to see more Chinese tourists coming to the small and beautiful Luxembourg, and more tourists from Luxembourg to the big but also beautiful China.
Still, for any question related to Chinese tourist visa applications, those have to be directed to the Chinese Embassy.
Chronicle.lu: Will the centre also liaise with other Chinese organisations here in Luxembourg, e.g., the Confucius Institute, to provide them with meeting / event space?
Zhang Jing: We hope to collaborate with all Chinese and Luxembourg organisations/institutions based here in organising cultural activities. We would love to help if they need space for events.
Chronicle.lu: Will the centre be used primarily to support and liaise with the Chinese community in Luxembourg to promote Chinese culture, or will it be used for outreach to Luxembourg nationals and residents to integrate culture?
Zhang Jing: As a gateway to Chinese culture at your doorstep, the CCCL is dedicated to helping people in Luxembourg to have a better understanding on China, to know more about Chinese culture and tourism.
We welcome every person in Luxembourg, no matter what their nationality or age is, to visit our centre to see exhibitions, enjoy Chinese music, experience Chinese culture and participate in cultural exchanges and co-operation between China and Luxembourg. It is for sure that we will also support Chinese community activities in Luxembourg if it is needed.