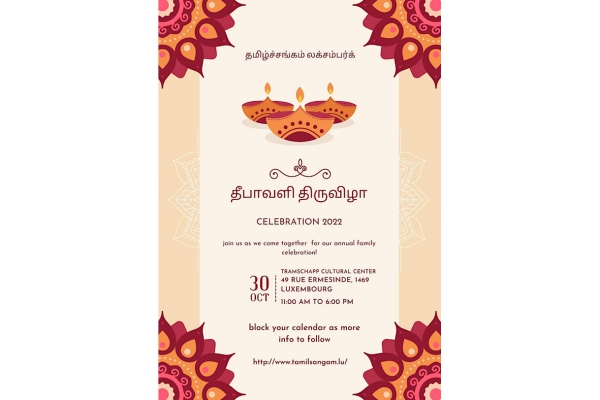 Tamil Sangam Luxembourg, a non-profit association in Luxembourg representing over 300 families from the state of Tamil Nadu in India, is organising Diwali celebrations on Sunday 30 October 2022 in Tramschapp Cultural Centre, 49 Rue Ermesinde, L-1469, Luxembourg-Limpertsberg from 11:00 to 18:00.
Diwali, also known as Deepavali, is a Hindu festival of lights which symbolises the spiritual "victory of light over darkness, good over evil and knowledge over ignorance", according to Tamil Sangam.
Easwara Ananth, Secretary of Tamil Sangam Luxembourg, said: "Normally we celebrate these major festivals with the Tamil community in a town hall where more than 200 people attend. In the last years, COVID-19 has restricted a free celebration with masks and social distancing etc. This year we are eager to host an event where members can freely interact with native friends as well as good opportunity for non-members to explore and [enjoy] Tamil culture."
Tamil Sangam expects up to 250 guests for the event, who are encouraged to dress in traditional south Indian attire. Various cultural events including songs, dance performances by children and adults, games and a lunch with several traditional South Indian dishes will be organised during the event.
Tickets for members (€25 for adults, €20 for people aged 13 to 18) and non-members (€30 for adults, €25 for people aged 13 to 18) are available online via https://www.eventbrite.co.uk/e/tamil-sangam-luxembourg-deepavali-2022-tickets-433105609537.