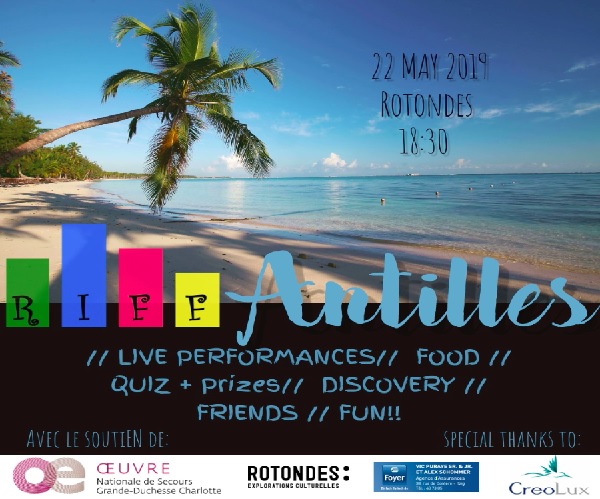 RIFF Luxembourg is organising a cultural workshop on the French Antilles at Rotondes on Wednesday 22 May 2019, starting at 18:30.
Centred around the French Antilles, this workshop will transport participants to the territories of Guadeloupe, Martinique, Saint Martin, Saint-Barthelemy and French Guiana through the discovery of their natural beauty, traditions, delicious cuisine and warm welcoming people.
The event thus offers insight into the culture, history, rhythms and gastronomy of the French Antilles.
Tickets cost €17 online (pre-sale €13.60) or €20 at the door and can be reserved at https://apps.ticketmatic.com/widgets/cr/flow/rotondes?event=910524105608&l=en#!/addtickets. Places are limited. Food and entertainment are included in the price.
This event is organised in collaboration with CreoLux a.s.b.l., in partnership with Rotondes and with the support of the Oeuvre National de Secours Grande-Duchesse Charlotte.