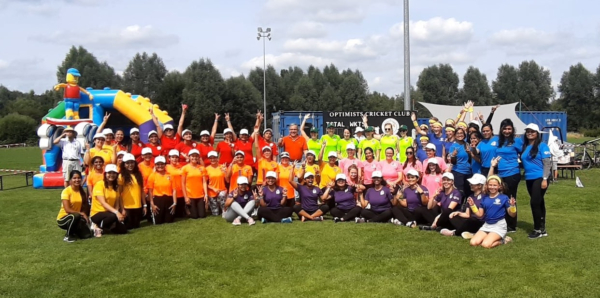 Women cricket event 2021; Credit: LCF
Chronicle.lu recently got the opportunity to speak with Stephen Evans, who was elected chair of the Luxembourg Cricket Federation (LCF) Executive Committee on 13 March 2022, about the cricket lanscape in Luxembourg and upcoming events in 2022.
Chronicle.lu: Could you please introduce the LCF, when the federation was formed and how many clubs are members of the federation?
Stephen Evans: Cricket has been played in Luxembourg since 1978 and the LCF was formed in 1995. We now have eleven teams of men and two for women. We have about 220 men, 20 women and 80 players under eighteen.
Chronicle.lu: When does the outdoor cricket season begin in Luxembourg? And please tell us about the indoor season here too.
Stephen Evans: The indoor season has just finished, running from October to March. The outdoor season begins in April and runs until September.
Chronicle.lu: Which national league and cup competitions are planned for 2022?
Stephen Evans: Our premier national tournament for men is a T20 tournament featuring eleven teams in two divisions. There is also a T10 cup for first division clubs and a T20 for second division.
Chronicle.lu: We know that Star CC represented Luxembourg recently in a club tournament in Spain. Will a Luxembourg cricket team(s) be playing international matches in 2022? If yes, when and where, and in which format(s)?
Stephen Evans: It's going to be a busy summer for the national team. We have a qualifier for the 2024 T20 ICC world cup at the end of July which will be held in Finland. In preparation, we will have a visit from the Swiss national team and we will visit Prague for a warm up tournament with Czechia and Austria. These are all T20s.
There is also the possibility that the Maltese Olympic Committee will organise an event that is additional to the Small States Games (SSG). The official SSG will be held in 2023, but the Maltese may organise this additional event in October this year for the nine participants in this event. They hope to have cricket as one of about 20 sports, and we would be keen to participate with the chance of winning an Olympic-style medal for Luxembourg!
As well, there will be the European Cricket Championship T10 tournament in September for national teams, an event run by the European Cricket Network, a private company.
Star [CC] participated in the European Cricket Network's European Cricket League, a tournament featuring clubs from 30 countries. It's the equivalent of the European Champions League in [football].
As well, as has been the case since 1991, the Optimists Cricket Club will be playing in the Belgian Cricket Federation 50 over league again - both the 1stXI and the 2ndXI.
Chronicle.lu: For someone new to cricket in Luxembourg and possibly wanting to either play or watch cricket being played, where are the grounds where cricket is played in Luxembourg?
Stephen Evans: There is only one ground in Luxembourg, in Walferdange near the Pidal swimming pool. There will be games every weekend between April and September inclusive. To find out what's happening and to join a club, see our Facebook page: https://www.facebook.com/luxcricket for details.
There is another ground under the auspices of the LCF in Evrange, just across the border in France.
Chronicle.lu: Is there a women's cricket team in Luxembourg?
Stephen Evans: We are growing cricket. There has been a social team in Luxembourg since 1992 - Maidens CC, and since last year Trois Frontiers CC has been playing in the Belgian Federation league.
Chronicle.lu: Are there friendly / corporate tournaments organised in Luxembourg for players who do not want to join clubs?
Stephen Evans: The best way to get involved is via the Maidens [CC] who organise sociable games for all comers. A BBQ and beers are as much a part of it as the game. Contact via email: omccluxembourg@gmail.com.