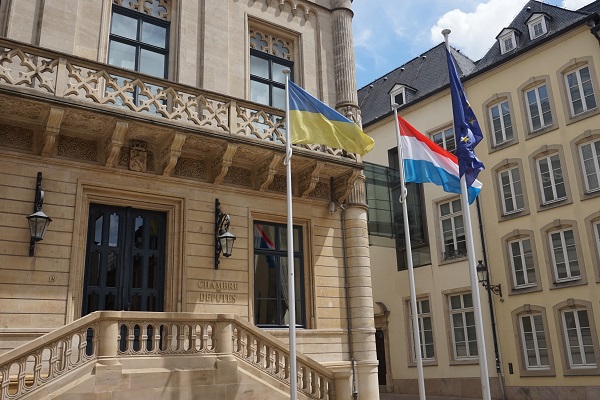 Chamber of Deputies; Credit: Jazmin Campbell/Chronicle.lu
On Friday 21 July 2023, during its plenary session, the Chamber of Deputies (Luxembourg's parliament) voted in favour of the law amending the amended law of 18 July 2018, relating to the protection of nature and natural resources.
This bill aims, among other things, to amend the said law in order to adapt the legislative text to reflect recent case law in this area and reduce administrative burdens while guaranteeing a high level of protection of nature and natural resources. In this bill, no additional limitation or prohibition compared to the current law is foreseen.
In this context, the Luxembourg Minister of the Environment, Climate and Sustainable Development, Joëlle Welfring, recalled that the said case law has been directly applied both in authorisation requests and in ongoing legal cases.
The draft law provides for legally existing or assimilated constructions*, that all legally existing constructions can carry out thermal sanitation to adapt their constructions to current urban planning standards. The raising of the slabs and roofs of legally existing constructions - and therefore an increase in height of the construction to adapt their constructions to current urban planning standards - are now also authorised within certain limits. In addition, the bill specifies that security works and constructions can now be authorised.
As for reconstructions, the new provisions in the bill allow for all constructions destroyed by fortuitous events to now be rebuilt identically without temporary limit (currently such reconstruction is only possible for constructions covered by article 6 and for habitual residences destroyed by fortuitous event within two years). All this work remains subject to authorisation.
An authorisation is no longer necessary for interior works that have no impact on the exterior appearance of an existing building, thereby eliminating some administrative burdens. The draft law provides that in the future, interior modifications - for any legally existing construction - are no longer subject to authorisation provided that they do not lead to a change in the external appearance or a modification in the dimensions of the construction.
According to the bill in question, certain elements will no longer require authorisation since their environmental impacts, in general or depending on their location, are predictable and minor. For example: other buildings can be rebuilt under certain buildings, certain types of fences, certain photovoltaic installations and their related installations, certain tunnel hives and greenhouses, temporary shelters erected during heatwaves to protect grazing animals, small constructions relating to hunting, certain small tools for sound or visual recording, artificial nesting boxes and perches for wild birds and chiroptera (bats).
The law will enter into force three working days after the date of its publication in the Official Journal of the Grand Duchy of Luxembourg.
* Constructions erected in the green zone without ministerial authorisation, whose restoration of the premises to their previous state can no longer be ordered, are considered to be assimilated to legally existing constructions.