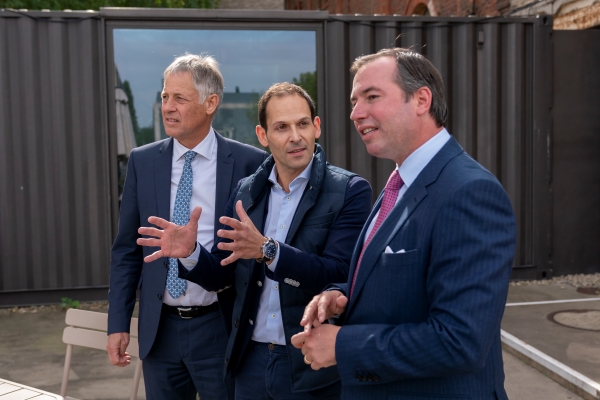 (L-R) Henri Kox, Minister of Housing; Dan Biancalana, Mayor of the City of Dudelange; H.R.H. the Hereditary Grand Duke; Credit: SIP / Emmanuel Claude
On Friday 23 September 2022, His Royal Highness the Hereditary Grand Duke and Luxembourg's Minister of Housing, Henri Kox, accompanied by the Mayor of the City of Dudelange, Dan Biancalana, as well as the President of the Housing Fund (Fonds du logement), Diane Dupont, and the Director of the Housing Fund, Jacques Vandivinit, visited the industrial wastelands of the Neischmelz site in Dudelange developed by the public promoter.
In Neischmelz, 1,575 affordable housing units will eventually be created on 33 hectares of land. The two bills for the realisation of the first phase of the new residential area provide for a state participation of €507 million. The site will also house the future National Center for Public Collections (Centre national des collections publiques - CNCP).
Currently, the Housing Fund is developing four large-scale projects in parallel in the country, namely in addition to Neischmelz the projects "Wunne mat der Wooltz" in Wiltz, "Wëltgebond" in Mamer, and "An der Schmëtt" in Biwer. These four projects alone represent together 3,048 housing units. Alongside many other smaller projects, the public developer Fonds du Logement manages the largest rental stock in the country with more than 2,000 housing units and provides social and financial support for some 5,000 tenants.