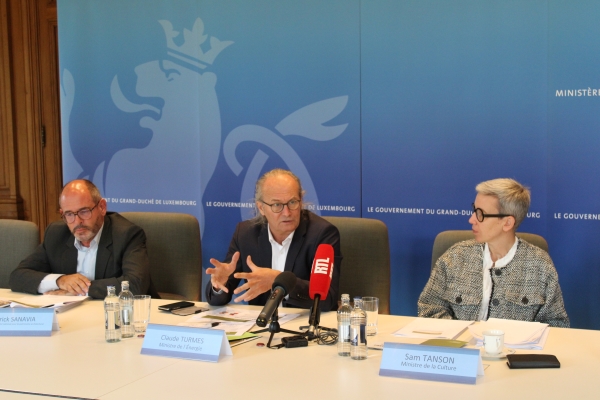 (L-R) Patrick Sanavia, director of the National Institute for Architectural Heritage; Claude Turmes, Minister of Energy; Sam Tanson, Minister of Culture; Credit: MCULT
On Friday 23 September 2022, during a press conference, Luxembourg's Minister of Culture, Sam Tanson, and the Minister of Energy, Claude Turmes, presented the brochure published on the occasion of the European Days Heritage 2022, placed under the sign of sustainable development.
This press conference also made it possible to highlight the theme of the European Heritage Days 2022; the aim is to raise public awareness of the link between heritage conservation and its contribution to a more sustainable and resilient future. This year, 35 events across the country will highlight this theme.
The brochure published on the occasion by the Ministry of Culture in collaboration with the National Institute for Architectural Heritage (INPA) as well as the Klima-Agence aims to show that the conservation of heritage is part of a rational use of resources. It will be available in three languages ​​(French, German and English) and can be downloaded via the websites of the Ministry of Culture, the National Institute for Architectural Heritage and Heritage Days. The French version of the brochure has been printed on recycled paper in a very limited edition and will be distributed at certain events.
Indeed, the renovation of a building makes it possible both to preserve witnesses of history for future generations and to contribute to sustainable development. Renovating and repairing an old building that is part of the architectural heritage can, for example, avoid the creation of additional construction waste and energy renovations contribute to a better energy balance of a property.
Minister Turmes presented the Klimabonus aid scheme which promotes sustainability, the rational use of energy and the development of renewable energies in the housing sector. This information can also be consulted in the brochure and on the Klima-Agence website.