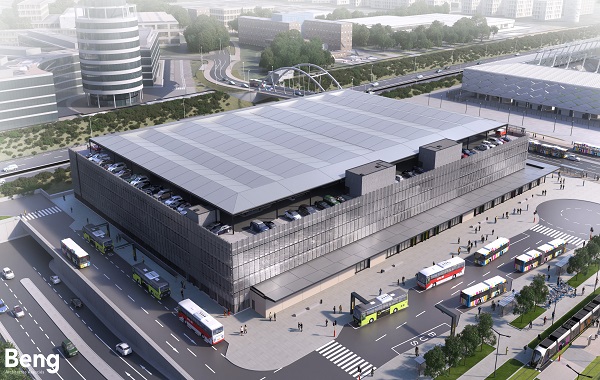 Future concept; Credit: (Above) Beng Architectes Associés; (below): PCH
Luxembourg's Roads Administration and the City of Luxembourg have announced the start of structural works relating to the future P+R car park near the new football and rugby stadium "Stade de Luxembourg" in Cloche d'Or.
This car park forms part of the multimodal concept of the Cloche d'Or district as a future hub. Preparatory work began in November 2020.
The completion of structural works is scheduled for mid-2023, with the arrival of the tram scheduled for autumn 2023. The four-storey car park can also be used by visitors to the stadium during sporting or cultural events.
The new car park will have a total of 2,000 parking spaces, around 50 electric vehicle charging stations, a secure bicycle locker (m-Box) and a Vel'OH! bicycle station. Common rooms for the drivers of the Luxtram, AVL (city bus) and RGTR (regional bus) networks, sanitary installations as well as a shop will be integrated into the concept.
François Bausch, Luxembourg's Deputy Prime Minister and Minister for Mobility and Public Works, described the new P+R as "an essential link in mobility in a new residential and commercial district in full evolution that the Cloche d'Or represents today".
Lydie Polfer, Mayor of the City of Luxembourg, expressed her delight that "the new car park in the Cloche d'Or district - in front of the new Stade de Luxembourg - will, once put into service, help absorb a large part of the traffic at the city's ​​gates and ease traffic in the city centre thanks to its direct connection to the bus and tram network".
The total car park costs amount to €74 million (including tax).