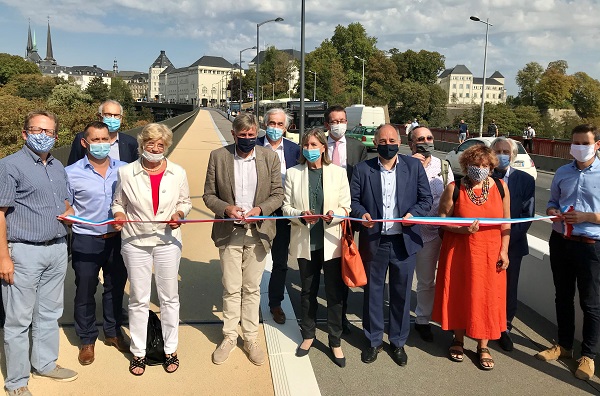 Credit: Jan De Nul Group
Luxembourg's Ministry of Sustainable Development and Infrastructure and Jan De Nul Group, a maritime infrastructure service provider with its financial headquarters in Luxembourg, inaugurated this afternoon the renovated Passerelle bridge, also known as the Luxembourg Viaduct or "Al Bréck" in Luxembourg-ville.
The inauguration of this footbridge, specifically designed for cyclists and pedestrians, took place in the presence of Deputy Prime Minister and Minister of Mobility and Public Works, François Bausch, as well as representatives of the City of Luxembourg and the Roads and Bridges Administration.
As part of the construction of the tram in Luxembourg City, the installation of an additional bus lane on the footbridge was considered essential, in order to maintain bus traffic from the city centre to the central station, while keeping the two current traffic lanes going from the station to the city centre. This modernisation project also included improving the safe circulation of both bicycles and pedestrians on one side, as well as maintaining pedestrian traffic on the other.
Minister François Bausch commented: "The site presented several challenges given its location in the heart of Luxembourg City and the fact that the section concerned is one of the most used by cyclists in the city centre. The new separate cycle path is a great asset for all users".
A provisional anti-suicide system has also been incorporated into the guardrail of the bridge, in cooperation with the UNESCO commission. Work began in October 2018; in November 2019, the new bus lane was put into service, followed by the provision of the widened sidewalk on Wednesday 16 September 2020. Work on the pedestrian crossing on the other side of the bridge will begin shortly, with completion scheduled for December 2021.
Between 2018 and 2020, Jan De Nul renovated this historic bridge, equipping it on both sides with new cycle and pedestrian paths. The company widened the road surface of the bridge and fixed a platform on both sides. These platforms stand on supporting pillars, which are in turn anchored in the pillars of the bridge.
This extension is intended for cyclists and pedestrians, with the old cycle path having been transformed into a dedicated bus lane.
The total cost of the project amounts to €11.2 million euros.