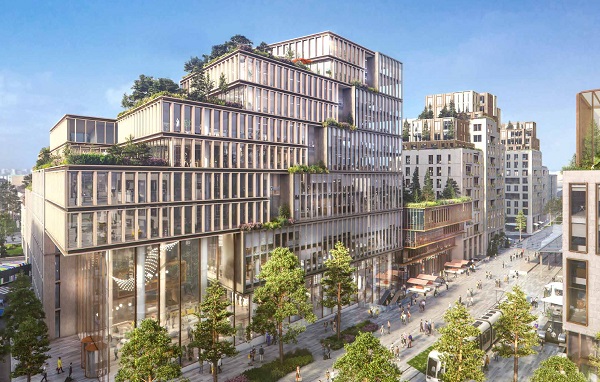 Credit: VdL
On Tuesday 15 September 2020, Lydie Polfer, Mayor of the City of Luxembourg, and François Bausch, Deputy Prime Minister and Minister of Mobility and Public Works, along with the project developers, presented the concept for the urban development of Place de l'Étoile in Luxembourg-ville.
The project developers presented both the urban concept of the project, namely the creation of a mixed-use neighbourhood with housing, offices, shops and services and a concept of mobility which will take into account the different means of transport.
Located at the intersection of Route d'Arlon, Rue de Rollingergrund and Boulevard de la Foire, the site currently hosts an exchange hub served by municipal and regional buses and the tram line that will connect to Place de la Gare towards the end of the year. With the completion of the new Place de l'Étoile project, this square will keep its function of an exchange hub as well as becoming a main traffic axis connecting the neighbouring municipalities to the west of the capital through an improved public transport connection and by extending the tram network from Place de l'Étoile to the municipality of Strassen. This new mobility hub aimed at promoting the development of soft mobility will also host several cycle paths, vel'OH! bicycle rental stations and pedestrian paths linking to other parts of the city, particularly the Rollingergrund.
In order to allow the integration of a shared space with an underground bus station for regional buses, the section of Route d'Arlon located between Boulevard de la Foire and Rue de Rollingergrund will be diverted via a tunnel from Boulevard de la Foire in the direction of Square de New York to rejoin Route d'Arlon. This "new" road will make it possible to direct traffic in a targeted manner.
In addition to improving user mobility conditions, the creation of housing is a priority for this project: 47% of the total surface area (48,395 m2 out of a total 102,745 m2) will be used for the construction of more than 600 housing units, including low-cost housing. Similarly, the project foresees the integration of shops, a gym, a food hall with terraces and interior gardens and a five-screen multiplex cinema over an area of ​​8,365 m2 (8% of the total area). Office space will make up the remaining 45% (45,985 m2) of the total area.
This concept will serve as the basis for the introduction of the specific modification of the general development plan and the development of a partial development plan to be adopted by the Municipal Council of the City of Luxembourg. It is expected that these procedures will be initiated in the first quarter of 2021.