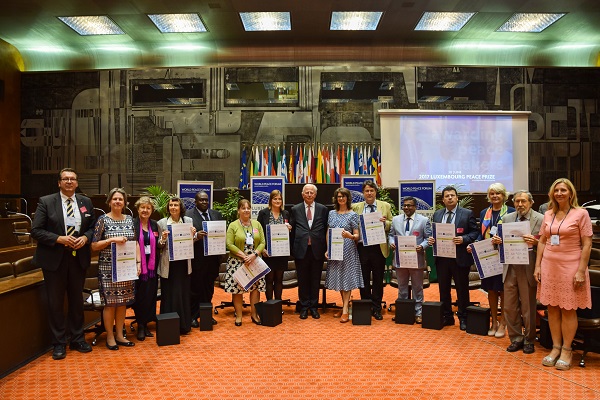 Luxembourg Peace Prize, 2017;
The 11th annual Luxembourg Peace Prize is being held on Wednesday 14 June 2023 from 09:30 at the European Convention Center Luxembourg (ECCL) in Luxembourg-Kirchberg.
"Never has finding a pathway to peace been so important in the context of the current Ukraine Russian conflict and the unfolding humanitarian crisis in Southern Sudan."
The Luxembourg Peace Prize will have the theme "pathways to peace" and includes presentations from peacemakers around the globe as well as a panel of local policy makers on their insights on how to achieve peace.
Laureates will be announced across 13 categories, and the latest insights will be presented on how peace is impacting the world economy from the Institute for Economics and Peace (IEP).
This event enables international peace makers from around the globe to share experiences and connect together to achieve positive outcomes to the benefit of all.
The event will culminate with a Gala Dinner at 19:00
For details, see https://luxembourgpeaceprize.org/; full programme at https://luxembourgpeaceprize.org/program/#2023